DO YOU REMEMBER?
(with Jude Gardner's starter)
By
Dennis C. Orvis
Do you remember when you and me were buddies when we were very little,
You lived down below and I lived up the hill?
Do you remember eating Groundcherries from Rueben Judish's garden
And Ernie Sacks taught us how to swear, extremely well?
Do you remember when they fixed our streets with a new thick coat of tar
When it was dry we tore off a chunk and it became our Black Jack gum?
Do you remember picking raspberries in the woods of Lover's Lane or when
We kids played "kick the can?" I don't recall who won.
Do you remember the circus that came to town every year or the sweet corn
Festival on Main Street, with butter from ear to ear, all we could eat?
Do you remember playing baseball at the park behind Nieworner's Hardware
Store, where a homer reached the street?
How small the park was and we were too, a well-hit ball homered at one hundred feet.
Do you remember playing Captain Flag and I Spy, our neighborhood was never at rest?
And in the Winter sliding down Catholic Hill for two or more blocks, it was the very best.
We knew where all the blue grapes were growing and no apple tree was safe from us.
We're still buddies with memories showing because Waverly was a super plus!
Those were good times, many years ago, we were Waverly buddies then,
Gloryoski, Zero, Ain't that grand? Yes, Zero, it was so very grand!
And yes, I remember still. I close my eyes and we do it all over again!
2004
*****
A GOLFING MIRACLE
By
Dennis C. Orvis
In the merry month of May,
A miracle came my way,
While I was golfing with the group called Spuds.
It was a day of clear blue sky,
And my shots were flying high,
Only a couple could be labeled as duds.
The fairways were gorgeous green,
Every shot was swift and clean,
And my dimpled ball sailed so straight and true.
Hitting every green in regulation,
It was for me a new sensation,
'Though my start belied my game, three putting one and two.
Another bogie came on three,
But then the fun began for me,
Four pars, two birdies, total thirty-seven with nine to play.
A bogie got me on number ten,
Then an eagle, my second shot went right in,
And next came six straight pars, it surely was my Day!
Careless putting on the final green,
Doubled a bogie on eighteen,
Back nine score, thirty-eight in a very special way.
Seventy-five was my total score,
First round in the 70's, a dozen years or more,
It was one of my finer golfing escapades.
Then Suddenly I realized
With a round of high fives,
Impossible as it seems, I just "shot my age!"
WOW! Top that Tiger!
May 13, 2005
THE RAILROAD SONG
By
Dennis C. Orvis
The road was two ribbons of steel and it was the same every day,
There was a click from every wheel as joints cried out and the loads would sway.
The big, black engines were aiding the Nation's growth coast to coast.
Begrudging free rides for hoboes and bums, riding the rails with stories to boast.
It was special growing up by the railroad near, with experiences many will never know.
We treated the trains with respect, never fear, sometimes hopping a ride for a mile or so,
The huge black engines used steam for their power, to pull many boxcars east or west.
They stopped in our town at the old wood water tower, to fill their boiler, so vital to their quest.
Our trains hauled freight, except during World War Two, when soldiers filled many cars,
Called troop trains, we gave them comic books and apples too, soldiers from other countries and ours.
During that time our railroad bridge was deemed essential to the war, it was guarded every hour, every day of the week.
My Grandfather was a member of the watchmen corp., no threat ensued, an event never to repeat.
The railroad bridge was also special to us young guys, for jumping and diving into the summer's warm river,
We remember too, when a train too fast on the curve caused three or more boxcars to dive into the water.
This only happened once that I can recall, but I remember the six-foot icicles hanging from the water tower every winter.
And the many pennies we put on the rails for the train to squash, and the hobos my Grandfather invited for dinner.
I can't imagine a town without trains, so important to our lives back then, but now the trains stopped running nearly everywhere.
Their need, like the old days, will not return again, but they are preserved as memories, so long ago and ever so near.
The great railroad companies have all merged or died. The right-o-ways changed and the rails are forever gone.
I remember how the eerie night whistle cried and when I close my eyes I can hear the wheels singing, the clicking railroad song.
2006
*****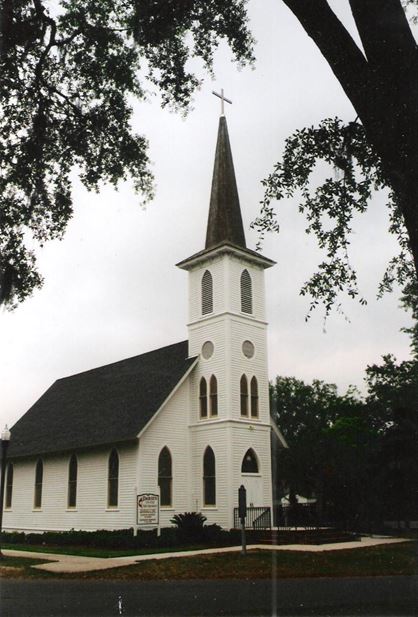 THE CHURCH ON VERNON SQUARE
By
Dennis C. Orvis
Serenely righteous among the old oak trees growing on Vernon Square
The Darien United Methodist Church, The Second, is proudly standing there.
Looking good, though built in the year 1883,
The huge bronze plaque relates its transition through history.
The original Methodist Church "cornerstoned" in 1841
And survived when Federal troops burned the town of Darien.
It served as Church, A gathering place and yes, even asTown Hall.
And when the Civil War ended, a difficult Peace tried to answer the call.
For Forty years it prevailed through growth and tragic recovery
But it was no match against Nature and the hurricane of 1881.
When the wild winds of August brought destruction so painful for all to see.
Then two long years passed slowly by before rebuilding was begun.
Now as I sit in this wonderful old Church that's seen 125 years pass by.
I can only imagine the joy when the new Church doors first opened wide.
Overwhelming to all Blessed to be present, they looked through misty eyes,
I stare in awe, as they must have done at the beauty I see inside.
The ceiling peaks from rear to front thirty feet above the floor.
Dark stained, narrow boards add richness no fresco could enhance,
With three steel rods holding wall-to-wall providing needed support.
Rusty with age, turnbuckled tight, the Builders left nothing to chance.
Each side has four stain-glass windows, stunning beauty ten-foot high,
Dark woodwork trim throughout the Church, scalloped Wainscot pleases the eye.
Lighted by a six-foot chandelier with twelve etched globes on display,
Flanked by two smaller fixtures with four frosted globes lighting the way.
The Church is nearly full now, eighty or more, this special day,
And the tower bell is ringing as the faithful scurry to find a pew.
Ten red robes with wide white collars, rise as the Director begins to sway,
The congregation stands, the music begins, the Lords' moment anew.
Serenely righteous among the old oak trees growing on Vernon Square.
The Darien United Methodist Church, The Second, is proudly standing there.
The loving music of Praise floats freely to neighbors ever near,
As a visitor, did I find this Church, or did the Lord send me here?
Mother's Day 2006
Darien, Georgia
*****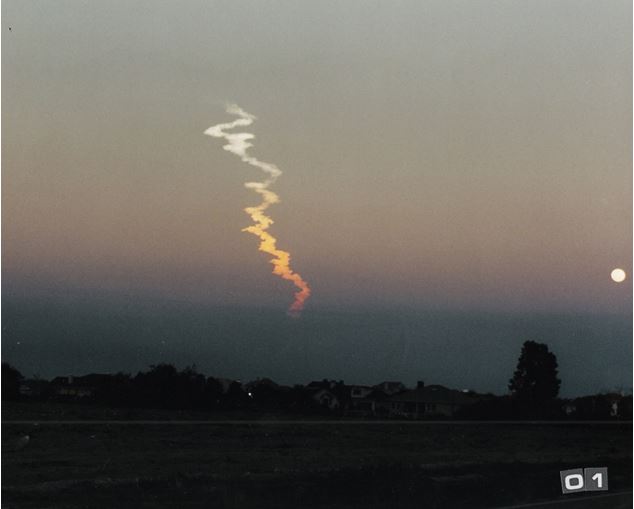 A SHOT IN THE DARK
By
Dennis C. Orvis
We're standing in the moonlit night
In a group of eight or nine.
Watching the dark northeastern sky
For signs of history.
Hoping the first space shuttle night-launch
is on time.
Hoping too, from a hundred miles away,
The miracle we can see.
Suddenly the cloudbank has a touch of Pink.
The horizon changes to brilliant orange from dark blue.
There! In the middle rising slowly, a sight too awesome to blink,
Was a small red flame, climbing slowly into view.
"There it is!" The cries were heard, "Look at it go!"
We watched the small red flame climbing ever so high,
With a white vapor trail stretching and rapidly grow.
Reflecting the colors, the shuttle vanishes into the sky.
It is gone! We silently wish the riders God Speed.
We watch as upper winds rearrange the plumb-like trail.
The mission into space, our Country continues to lead.
Unforgettable. May our leadership ever prevail.
October 2006
I took this photo in March 2001
*****
WILL YOU ANSWER?
By
Dennis C. Orvis
When old friends gather in the hall of memories,
The faces, though changed, will still be aglow.
And their eyes sweep the room like a warm gentle breeze,
Re-living the happy times we used to know.
We watch the speaker open the leathered Hawkeye book,
Quietly turning pages to our special days.
A silent breath shares the stage with a longing look.
Unspoken words span sixty years with a gaze.
The trance fades as the first name floats across the hall.
The reading of the honored list has begun.
Heads turn with smiles as each voice answers the call.
When the roll is called, will your AYE be one?
The answer, of course, is really up to you,
But your classmates are hoping, most of all,
With our schools' colors of Black and Gold tugging, too,
That you will, in person, answer the call.
2006
*****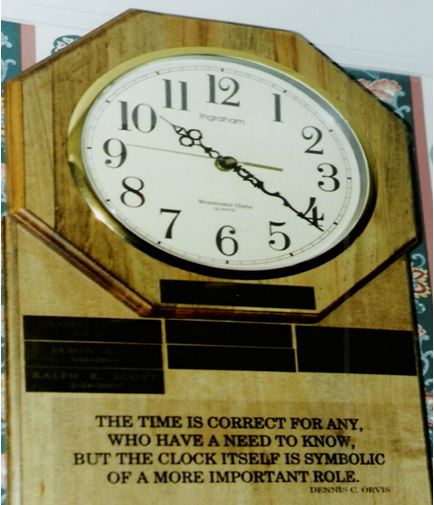 THE CLOCK
By
Dennis C. Orvis
Quietly the hands on the attractive clock move steadily as they should,
Positioned above the Country Club bar in a sheen of natural wood.
The time is correct for any, who have a need to know,
But the clock itself is symbolic of a more important role.
It is owned and cared for by a special golfing group, called Spuds by name.
Though not a trophy or a prize, the clock is significant just the same.
The time is correct for any, who have a need to know,
But the clock itself is symbolic of a more important role.
There are two-dozen Spuds, plus a few, golfing three times weekly, those who can,
With handicaps in the senior range, fellowship and friendship share the master plan.
The time is correct for any, who have a need to know,
But the clock itself is symbolic of a more important role.
The numbered chips are drawn, teams are formed, the game's selected by number five.
Many grunt disgust of the choice in jest and load up for the eighteen-hole ride.
The time is correct for any, who have a need to know,
But the clock itself is symbolic of a more important role.
When the round is over, the Spuds meet under the clock and winners then are paid.
With pitchers of beer, the humor is clear and the days golf repeats in charade.
The time is correct for any, who have a need to know,
But the clock itself is symbolic of a more important role.
The Spud clock pays tribute to members playing now at the big golf course in the sky,
And brass plates look down o'er the joy they once shared when their shots good and bad would fly.
The time is correct for any, who have a need to know,
But the clock itself is symbolic of a more important role.
So whether the Spud is around the table or on the clocks' brass plate with a name.
The important thing is not whether you won or lost, but with whom you played the game.
The time is correct for any, who have a need to know,
But the clock itself is symbolic of a more important role.
2007
Note: This is a tribute I wrote to our golfing group called the Spuds.
*****
THE OLD CITY
By
Dennis C. Orvis
I didn't know what to expect when I first met the old city in sixty-nine.
I didn't know its history though I was determined with an open mind.
Looking back it wasn't easy in the limited time we had to see,
It looked like the city would finish last in any contest there might be.
But nobody pitys cities no matter how difficult the plight.
It's easier to walk away than accept a challenge and fight.
An old New England city; its decay started nearly fifty years before,
When a hundred or so cotton industries stopped machines and closed the door.
Thousands lost their jobs and moved away, property taxes were unpaid.
A city bankrupt went under State control, no improvements or repairs were made.
But nobody pitys cities no matter how difficult the plight.
It's easier to walk away than accept a challenge and fight.
The Great Depression added chaos to chaos with no help anywhere to be had.
The city grew smaller, real estate became blight, conditions were nothing but bad.
World War II brought economic recovery to America Coast to Coast.
Well almost, for this old New England city, recovery was still a ghost.
But nobody pitys cities no matter how difficult the plight.
It's easier to walk away than accept a challenge and fight.
Progress was painful, a new interstate gutted downtown, rebuilding was terribly slow.
Then some young Tigers got involved with desire and energy hoping to make things go.
Still, national stores, dying for lack of parking, moved from the city center.
The job growth was slow, needle trade pay was low and Firestone closed its huge plant there.
But nobody pitys cities no matter how difficult the plight.
It's easier to walk away than to accept a challenge and fight.
Those Tigers hired me to run the Chambers' ship, a job fifty others tried to get.
But the word was I lost, the challenge was too great, a banner I could not forget.
I must admit it wasn't an easy role, those New Englanders were cordial, but cold.
Barriers everywhere, as I tried to paint a new picture on a canvas, so battered and old.
But nobody pitys cities no matter how difficult the plight.
It's easier to walk away than accept a challenge and fight.
The key I believed, was people and we pulled them in on many fronts with projects galore.
And in time our small victories with mended fences survived and served to attract even more.
We formed partnerships in spite of Sacred Grounds, pressing on with a growing team.
We changed our image to be community first, gaining friends as finished projects were seen.
But nobody pitys cities no matter how difficult the plight.
It's easier to walk away than accept a challenge and fight.
A bold spirit flourished as community leaders stepped forward with renewed pride.
Many tributes and praises came the old Citys way from the New England countryside
With growing successes like Junior Achievement for the young, old problems were soon forgot.
And for a decade plus four the troubled old City was ever close to Camelot.
But nobody pitys cities no matter how difficult the plight.
It's easier to walk away than accept a challenge and fight.
A quarter century has passed since I left the old City, proud that all was ok.
But reports I've heard since says Camelot is gone, the old City is again in decay.
My heart is in pain for those friends we so loved and the old City that took us in.
But we remember our shared joy of Camelot and truly hope it will happen again.
But nobody pitys cities no matter how difficult the plight.
It's easier to walk away than accept a challenge and fight.
2007
*****
THE MEETING OF FRIENDS
By
Dennis C. Orvis
I called a meeting the other day of all the friends I've ever known.
To meet where laughter never stops on memory lane.
Such joy came over me as old friends began to show.
Smiling and waving and calling out my name.
Glenn, the first to arrive, like Jude, was a friend from early age.
And then I saw Dick and Jim, great neighbors in early days.
There's Del. How often our paths did cross,
As we drifted through life in those different ways.
There's Doug and Jerry, Al, Don, Max and Gil,
Russ and Gus, Vic, Rick and Lavern.
And Gene and Harry, Fred and Larry,
With chorus of laughter, great memories return.
They're shoulder to shoulder and still more arrive.
I see Gary and Charlie, Ernie, Frank and Paul.
So many, the smiling faces keep coming on,
Reminding me how blessed I am, maybe blessed of all.
My mind is racing back to those terrific times shared
With Bob, John, Jack, Mickey, Butch and Dave,
Some great, some small, yet treasures all,
Tony, Tom, Andy and Wayland, a thumbs-up wave.
The line is long, no end in sight,
There's Dan and Royal and high-fiving Clair.
There are many, many more, too many to name,
But I remember each one with a toast and a Prayer.
2007
*****
A POEM FOR JOANNIE
By
Dennis C. Orvis
Joannie was the sister of a friend,
Who in the golden years of her life, was dealt a losing hand.
I did not know her long and quite late,
She lived on the golf course, the fairway of five-par, hole number eight.
A friend of our golfing group of twenty-four,
Served us cookies and coffee, twice a week outside her patio door.
Treats by the golfers, but the smile belonged to her.
How it started I don't know but it was so very unique, so pure.
Then the coffee stop was closed one day.
Joannie had an extended illness that wouldn't go away.
We were soon shocked with great sadness.
Learning her illness was terminal, we prayed for her comfort and rest.
How helpless we are when a friend is struck.
We're driven to do anything, hoping always for good luck.
I sent her a folder of poems I wrote.
And was told her lost smile returned faintly like a brief ray of hope.
Small victory perhaps? Or huge, one might say?
It inspired me to follow with more poems, weekly, the first day.
Does it really matter? How can we really tell?
Yes. Several weeks later I received a thank you note I treasure still.
Time indeed, was short, barely ninety days.
Through eight Mondays the poems feathered the weeks with rhyme and praise.
Yet, sadly, poems the following week she did not hear or see.
So with special thanks, this poem's "for Joannie in memory."
2007
*****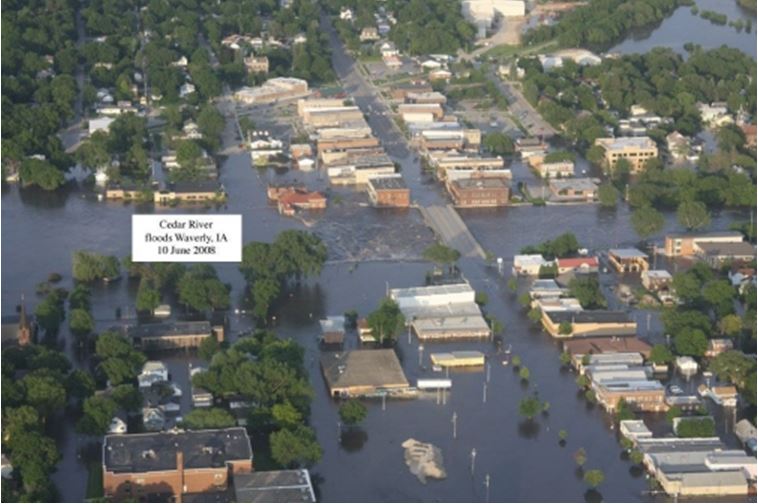 THE FLOOD OF 2008
(My hometown- Waverly Iowa)
By
Dennis C. Orvis
I've seen the river rise, a springtime event repeated every year.
Winter snow melts sending extra water to the river waiting near
And swelling our summer friend, overflowing the rivers' normal banks
Usually though, the flooding is minor, the subject of many thanks.
Waverly Iowa loves the Cedar River most of the time,
Running through the towns' center, offering fun and beauty, a special kind.
The source of favorite fishing spots, boating and the ole' swimming holes,
Year around pleasures, winter too, ice skating and scoring hockey goals.
Our river, Natures' blessing, providing much joy over the years.
And yet, there were some springs when higher flooding caused many tears.
Especially when the winter snow was deep or the melt was much too fast.
Well-known low areas would quickly flood, requiring a sandbag task.
The gentle warm spring rains are always needed to help the flowers grow,
But when the rain is added to a swollen river it makes a treacherous flow.
Warnings from the upstream towns alerted officials to be concerned.
School students responded to fill sandbags, another lesson learned.
Some people were rescued by boats as they were every flooding year.
Filling sandbags, we always wondered why they didn't move from here.
Still, except for a few houses, some city parks and maybe a street,
Usually most spring floods we could handle as a manageable repeat.
There were record years, when much damage comes quickly comes to mind.
The year the towns' boathouse sailed the dam, probably 1949.
1960 many county bridges were damaged or washed away.
And others with the Harmon Street Bridge under water every flooded day.
It has been over forty years since I moved away from my hometown,
Which means I missed those flooding years of throwing sandbags all around.
But in the news today there was my hometown, in headlines Nationwide.
The Cedar River, out of control, my hometown with no place to run or hide.
The pictures I received from Waverly friends I could hardly believe.
Areas were flooded first time, before it crested and then recede.
Even the Fairgrounds under water, to the hills of my old golf course.
Water engulfing thousands of homes, stores and Churches without remorse.
This surely will be the new record, this flood of 2008.
It was abnormally high, but not from snow as the flood came very late.
The only cause this year was relentless rain, for days and days it came.
The aftermath is brutal, lives of many will never be the same.
My thoughts are wandering to the stages a flood impacts on ones' mind.
Concern, anxiety, worry, with futility not far behind.
Disbelief, disgust and discouragement when the river shrinks one day.
The hurt endured when destroyed photos and keepsakes are hauled away.
I stare at the picture of my flooded hometown with much pain in my heart
Those memories of my younger days when those places and things were part
Someday grief and sadness will fade, tragedy cannot forever last,
And my beautiful hometown will again excel above its' splendid past.
June 2008
*****
SPECIAL MOMENTS
By
Dennis C. Orvis
In the world of golf where fantasy and fiction
Can sometimes embellish what's real,
The unbelievable can follow the forgettable
On the very next shot.
And yet, every once in a while, if you are lucky,
You can have a day surreal.
Your putter is true; your bad shots are few
And your old golf game is really hot.
As a Senior hot golf games are quite rare;
Any heat reference would be the weather.
But hidden in my memory trust are a
Few special moments easy to recall.
Once my second shot on a Par five hole,
Rolled the green within the leather
And the three times I had a hole-in-one,
Each becoming a special trophy ball.
Now, aging, great golf days are far between
But the fellowship is worth the time I spend
I shot my age in seventy-five, supreme!
Now four years later, seventy-nine, cheers again!
March 2009
*****
THERE WAS A TIME
(Growing up in Waverly Iowa)
By
Dennis C. Orvis
There was a time
when this body was young
I would swim in the river
dive off the railroad bridge
or swing high from a rope or vine.
There was a time
when this body was young
I searched the woods for mushrooms
hunted rabbits in their zigzag run
or borrow grapes from the neighbors' vine
There was a time
when this body was young
when we fished all night long
caught a few for no reason at all
or maybe caught an eel and then "cut our line."
There was a time
when this body was young
swimming all day at the town pool
or chase gophers with wet towels
or pitched old copper pennies to a line
There was a time
when this body was young
we played baseball in the street
rode our bikes all over town
Our bikes waxed to a perfect shine
There was a time
when this body was young
and we did those things that young people do
never thinking of danger that could have been
Yes, there was a time.
Wouldn't it be great "one more time?
2009
*****
MY BIRTHDAY PARTY
By
Dennis C. Orvis
It's a party I did not plan,
It's something I would not have done.
But my lovin' family did
And now I'm basking in the fun
It's pleasing as each guest arrives
Increasing the vibes in the hall
And I realize how blessed I am
There's no doubt, the most of all.
As I look around the crowded room,
The great joy I have is real.
I see all the smiling faces and
The treasured friendship I feel.
Wonderful memories of special times,
Flash through my mind again,
And conversations start with those
Familiar words, "Remember when?"
To each and every one I say,
You are so special in my life.
And of course, the Angel on my cake
Is always my special wife
So it's not the eighty candles
We're here to celebrate
It's the minutes shared through the years
I'll forever appreciate.
2009
*****
THE OLD COURSE
By
Dennis C. Orvis
In the golfing world,
The mere mention of the Old Course
The vision of Scotland's' St. Andrews
Appears with rolling lands and waving gorse
And yet, there is another
Old Course memorialized by so few
Located in Fall River Massachusetts
In 1895 the nine-hole course was new.
World famous Harry Vardon
In 1900 twice shot a seventy-four
Setting a new course record with
Ancient clubs and balls, a feat we must adore.
The great Bobby Jones
Once challenged the Fall River nine
He gave it his best
But he paid for any off-shot line.
It was the fall of '69
When I first played this Scottish tough
With a handicap of twelve
I soon added five, hooking often in the rough.
It took a year to
Become a twelve handicap as before
And there I stayed
For a dozen years plus two more.
Although I never beat the course
My first hole-in-one came on number eight
It was a blind shot
I never saw, though witnesses said it was great
I did see one, not mine,
Hole number twelve on a cold January day
And an eagle two by Hentershee
First hole, unbelievable yet today.
In the year 1975
The Old Course expands, another nine was seen
The original course remained
Unchanged, though two holes joined the back as "teens"
The Scottish layout
Offered many places for balls to hide and rest
With a ball hunting hobby
Without a doubt I was one of the best
Finding fifty or more
Was easy. My one-day record was 252
I remember clear one Christmas
I gave one hundred dozen to friends in their brands, too
The only trophy I won
During those fourteen years I still treasure
Turning fifty in '79
Winning the Senior tourney, a day of special pleasure
The Fall River course
Endured many a difficult time
In addition to the
Great Depression of 1929
It was deserted
By community leaders after the joy of 1885
It's hard to imagine
When hard times fell, how it ever stayed alive
Expanding the course in 1975
Failed to attract finances new members bring
Critical times returned
Lack of funds were crucial, becoming a daily thing
As Greens Committee Chairman
I heard the glaciers might have melted very near
The constant pebble
Problem in the sand traps was a sign the melt was here
We contracted experts
A gravel company for test borings to be sure
The borings told us
Substantial gravel, thousands of cubic yards or more
At the December annual meeting
Of the members I presented a daring plan
To expand the valley holes
Two and Eight, selling the digging to the gravel man
My plan had strong approval
And the digging soon began, much gravel was removed
Many members helped
Pick-up small pebbles as the new fairways healed, improved
The sale of gravel
Brought new life to the Old Course and Country Club
And once again
The activity grew; once more it became a central hub
A new superintendent
For the course was hired in '81, given loose reigns
And many improvements
Restored its beauty and its reputation soared again
Tom Ohlson, by name
Plus Tom Tetrault, Club Pro since 1975
Endured the tough times and
Now with a showplace they have survived
It's been forty years
Since I first met this Old Course of 1885
It was my personal pleasure
To play her once more, bringing old memories alive
The big divot I made
On two and eight's still there, the tree I cut down is still gone
The flower garden
My wife helped build on seven tee, still blooms nature's song
Together we shared
Such joy that others may never feel or see
Locked in our hearts
The Fall River Country Club, the other Old Course, forever special to me.
June 2009
*****
HAPPY BIRTHDAY! To Ralph Houk
By
Dennis C. Orvis
Well, Dear friend, we just heard some wonderful news.
Your ninetieth birthday is here
A milestone by any measure one might choose.
We join your friends in a boisterous cheer.
*
We're tempted to joke just a little bit.
Was a Babe Ruth pitch hard to hit?
Was the covered wagon a bumpy trip?
Was the feathered golf ball hard to pick?
*
Ninety candles, wow! That's a lot.
The burn permit wasn't easy to obtain
We know the cake will be very hot.
So we got the permit in Yogi's name.
*
Seriously, Ralph, we're so pleased to say.
Friendship we treasure, shared memories we adore
We wish you the best each and every day
Happy Birthday, again, wishing you many more.
Dennis and Edie Orvis
August 10, 2009
Written for: Ralph Houk,
Baseball Famous
and Our Friend
*****
THE QUESTION
By
Dennis C. Orvis
When the health of a loved one is in question, whether yours or mine,
We would like to believe it isn't true; searching for a hopeful sign.
And now a familiar old question returns quickly to our mind.
Why do bad things happen to good people? It's so terribly unkind.
We have heard life is what we make it, which isn't totally true.
Some roads are better than others and some we do not chose to do.
Hopefully the good times will outweigh all others, a positive refrain.
Through memories we can share and yet the question will always remain.
We're afraid there is no answer that would begin to satisfy.
To say that is just the way it is, will never answer the WHY.
We know of nothing to ease the pain our hearts are feeling today.
Except the hope we have and our Prayers, to strengthen our dismay.
2009
*****
OUR CLASS REUNION – ONCE AGAIN
By
Dennis C. Orvis
It's been a while and the years fly so fast.
As high school days fade in the distant past
Some friendships, though, remain so very strong
And some memories will always belong
I am anxious now to see my old friends
And relive a few special times again
And we will laugh together once again
At the words that follow "remember when?"
I hope that time has been kind to you
I hope that some of your dreams came true.
Here's a toast to good health, my friends
Until the day when we meet once again.
2009
*****
From My Hospital Bed
By
Dennis C. Orvis
It's cool outside, the first cold
wave of the season is here.
The sky is a different blue,
since the rain cleansed the tainted air.
The morning sun is passing through
a cloud that wants to stay
Still, the emerging sunrise reaches
my window to welcome my day.
The vertical vanilla blinds are turned
to let the new day in.
On each blind a mini sunrise
appears to let the morning win
It's a fascinating picture,
I had not noticed before
As each mini sunrise moves upward
growing higher from the floor
The sun finally broke through,
now flying above the stubborn cloud
Behind me the shadows cover
the waiting wall like a shroud
Suddenly my room fills with
sunshine as the shadows quickly flee
I love the new days' picture
designed especially for me
Seen from my hospital bed,
natures' beauty performs for me
While recovering from accidental
damage to my knee
From friends and loved ones,
I can feel such wonderful energy
And healing blessings and Prayers
ride the brilliant sunrays to me.
2009
*****
The Boring and the Bland
By
Dennis C. Orvis
An accident put me in a wheelchair,
And that's the bad news.
Good news- it's only temporary
No other option I can choose
The doctor says three months if I'm lucky
But it could be four
But no weight on the left leg for weeks
It must be off the floor.
I have a brace to keep the leg straight
'Til the healing is done
So it here I sit, grin and bear it,
Exercise is number one
Now I am in my easy chair
Or sitting in the wheeled one
A walker to go from
One to the other isn't any fun
I learned quickly, how fragile
Life can be
One moment I'm on my bike
And then I landed on my knee
Now I gaze out the window
I see a picture so surreal
I see wind blowing without sound
And sunshine I cannot feel
I see beautiful flowers
Without the fragrance they provide
The world is bland from where I sit
Only quiet walls inside
There is a great consolation
As the ordeal I wary
My injury is healing
My wheelchair is temporary.
TV, books, mags and things to read
And my writing pad at hand
They all help me get through the days
And survive the boring and the bland
2009
*****
The Old House
By
Dennis C. Orvis
While growing up I spent a few years in my grandparent's house
Matter of fact I was born in that house in 1929
The house was built in three parts, the first about 1850
Like my Mother, born there in 1911 we turned out fine
The wall studs in the first section were oak tree limbs
Verifying its age, like concrete only a drill could sink a nail
No A/C in the summer heat, corn grew tall, we suffered it all
Winter heat was the Warm Morning stove heating water by the pail
No central heat meant cold nights and colder mornings
It meant the burning of coal, carried in and always ashes to be carried out
It meant covers on my bed so thick I could hardly turn over
It meant storm windows replaced screens in the fall to keep winter out
Iowa winters I still recall were very cold and white
And my friends I left behind many years ago report it's still true
In the late 1950's before I moved, I modernized the old place
Yet, memories remain of the old house, so old and yet ever new.
2009
*****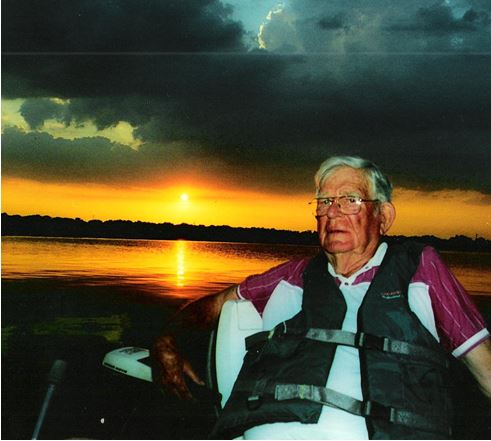 The Pending Storm
By
Dennis C. Orvis
The pending storm was moving to squeeze the sunset out of the sky,
A few white helpless clouds were fading with no place to go
Low and rain filled, multi-colored blue clouds race by
And the old fisherman starts the motor as the wind begins to blow
The fast moving storm caught him fishing near the opposite shore
He reeled in his lines, feeling light moisture in the air
He aimed his boat dead into the wind; the small motor gave a roar
It seemed the boat was hardly moving, now the storm is here
The sunset was still a small ribbon of gold he could see
While the rain began to fall as the mooring dock came into view
His wife in the bow of the boat was looking anxiously
They fished and got wet together and tomorrow they start anew.
2009
Written in memory of an old friend
*****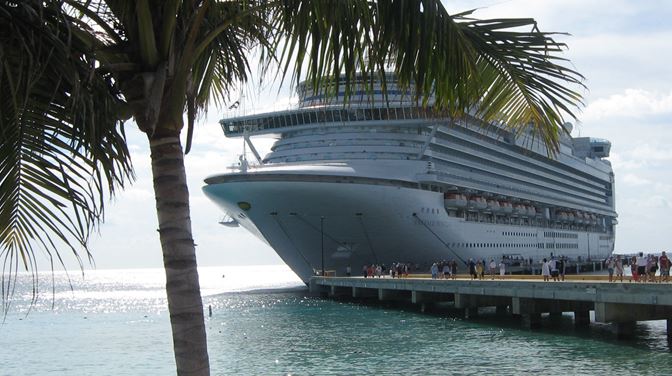 May -The Cruise
By
Dennis C. Orvis
The day has arrived. I see the ship our cruise will soon begin.
Our luggage is tagged, enough clothing for a month, it looks to me.
I wonder when we will see our luggage again.
Then we walk through the arch searching for fun at sea
A nice smile asks for our picture I.D.
Then points us up the ramp where we show it again.
Next to a table where health forms wait for me.
I.D. again along with camera, metal and the carry-on X-ray Machine.
No matter what I think, I smile, good security is great
We catch up with groups of people aimlessly walking
They know their stateroom number but being lost is fate
I hear a low mumble in several languages, muffled talking.
Eventually nearly everyone finds their room for the week
About two hours pass, no luggage yet and the loud speaker cries
"All passengers to the main theater with life-jackets" another site to seek
Most make it, wearing, carrying or tripping with unpleasant sighs
The demonstration was boring until the leader told us all to stand
And put the life jacket on, the truth is there wasn't space
For everyone and their life jackets, fumbling straps, always wrong hand
The lucky ones were nearer to the theater doors, leading the exit race.
Getting back to the stateroom was an aggravating trip
Too many people, elevators were jammed, and stairways were full
Patience was in short supply, courtesy too often skipped
Time for dinner? Our reservation was mixed. Where's a lull?
We signed for anytime dining, now we're stuck for a sit down eight
Nice menu, good food, cordial conversation
After dinner, to the Purser's office to change our dining fate
After all, we said it all, six days, same people is devastation.
Now where's the theater? We've got to hurry. Where's the elevator?
Found it! Do we go up or down? What's that chart say?
Finally we found it again, just in time. What a gorgeous theater!
Wow! Nearly one thousand seats. The comics are funny. What a day!
Twin beds or queen? We chose the queen.
Our stateroom is small; the bed is a foot from the wall.
The small frig door barely has room to open and swing
If we'd chosen the twins, there'd be two foot between, that's all!
Day two began. We met my wife's sister and husband at eight.
The dining buffet on deck fifteen was our goal
We found four twenty-foot rows of food, each row looking great
I slid my large plate along; it was like a fantasy stroll
I tried to behave, remembering it is hard losing weight
I only spooned a little of the food I like really well
Still I walked to our table with a fully loaded plate
I ate it all, returned to the pastries, chocolate, Carmel and jell
Breakfast is over and I am stuffed like a swollen toad
We explored the ship and watched the ocean wave
Took a few pictures, felt pleased I did not explode
The hours passed quickly, lunchtime arrived. I must control my craze
We found the buffet so much quicker this time
I grabbed the large plate and made the loop
I stopped at the meats, they have every kind
I tried them all except the fresh squid soup
Back for dessert, a weakness I cannot overcome
Twelve kinds of cake, so beautiful to the eye
Fresh fruit, peaches, pears, melons and purple plum
Stop! I must stop! Right after a piece of key lime pie
And so it went day after day after day
Except for one more dress up full service dinner
Three meals like clockwork at the growing buffet
I look at fellow passengers, hoping I'm thinner.
On this trip to the Caribbean, we made four island stops
They looked the same each with a hundred shops selling jewelry
We saw a live show every evening the talent always tops
Each day on the ship was filled with planned activity
To say we enjoyed the cruise would be an understatement
It was simply wonderful as it always is. We've been on four
Our week ended and so did our watery merriment.
Back to reality, just in time, I cannot eat any more.
May 2010
*****
Our Backyard Swing
(the house in Baltimore)
By
Dennis C. Orvis
We have this swing in our backyard
No, it's not a tire, rope or vine
It's like the old porch swing
On an A frame with a green-covered top
The tan, soft cushions can seat three
But more comfy two at a time
It's what I really love to call my
Favorite early evening spot
To gently rock to and fro
So come on, join with me if you will
And you will see what I mean
Our backyard is a very special place
With plenty activity
We'll swing back and forth slowly,
Looking for what may be seen
The recent rains have given
The colors such a fresh new beauty
And we rock to and fro
The long, old red brick patio
Welcomes under a sun-baked frame
With open rafters carefully wrapped
With small white Christmas strings
To illuminate when darkness falls
If we decide to remain
The patio runs parallel to the flat-rock wall
Behind landscaped greens
And we rock to and fro
A pair of six-foot bushes, dark green
Neatly trimmed with a rounded top
Equally spaced by short spreading plants
With large light-green leaves
Several beds of orange tiger lilies
Create beauty spots
While a tall, lonely lavender lily
Sways in the gentle breeze
And we rock to and fro
The property line on three sides
Is thick, lined with evergreens
From the top of the wall where the ivy grows
The yard climbs a steep hill
And a hundred-foot walnut tree
Stands stately and ever supreme
While pairs of busy cardinals
Give nature's touch, an extra thrill
And we rock to and fro
2010
*****
Parched Corn
By
Dennis C. Orvis
My home state of Iowa is truly a state of four seasons
I've seen every day of January freezing cold
Winter was not my favorite time for obvious reasons
But cheering the first day of spring never gets old
Shaking the winter blues is a real pleasure
And springtime memories, like hunting mushrooms, I'll always treasure
Then the joys of summer, so many, are the best of all
Followed by autumn and the natural beauty of fall
When my buddies and I would tromp through the woods
Running by the river and mystical Lover's Lane
We'll borrow a couple ears of dried field corn along the way
Start a fire and parch some corn, outdoor life is a wonderful game
2011
*****