GOOD THOUGHTS JUST FOR YOU
By
Dennis C. Orvis
A little bird just told us now you are not feeling so well,
So we wondered long and hard how we could send a little cheer.
We thought and thought and thought and then we thought some more.
'Til we made this list of thoughts with hope, bringing your wellness near.
As you quietly hear each thought, draw a picture in your mind.
Then listen, as each thought might bring memories back to you.
Let the beauty of the picture and the peace there you will find,
When sounds and lovely fragrances make some old times new.
Like the song of spring's first Robin proudly boasting he is here.
Like the patter of warmish rain dancing on early Croquis blooms.
Like the whirl of Humming Bird wings fluttering rapid in the air.
Like the fragrance of morning sunshine flooding your windowed rooms.
Like the roar of the waterfall crashing down on the pond below.
Or the Bob White Quail whistling ever loud to its hidden mate.
Or the sound of the evening sleigh ride on the crunching winter snow.
Or the questioning calls of the old Barn Owl keeping you awake
Remember the sounds of the farm, clucking chickens and mooing cows.
How the spinning wooden arms of the old windmill would squeak and rattle.
How the noisy old tractor would pull those antique rusty plows.
The sound of your canoe slicing the water, splashing on the paddle.
Or your first train ride, clicking wheels and the whistles' eerie cry.
Or the great joy at the circus where the Elephants did neat tricks.
Crazy Clowns made us laugh and the trapeze artist' flew so high.
The Lions and Tigers were scary and the horse riders did bouncing flips.
Like the smell of apple pie baking at Grandma's, lingers still.
And turkey dinner each Thanksgiving, something special to behold.
The homemade Carmel corn we loved, licking our fingers was a thrill.
Great memories like these simply never will get old.
Nor will there ever be an end to the good thoughts we could add,
But we've listed these few and we enjoy sending them your way.
So if you are feeling a little better we are really glad.
And we're extra pleased if they've brightened your day.
2008
*****
The Power of the Card
By
Dennis C. Orvis
I received your greeting card today,
"Get Well" it said with a verse of timely fair,
When I opened the envelope,
I could feel the love inside float into the air.
I felt the power of the card.
The many cards like yours
Sweet, cheerful, some funny too,
filled my heart with a sunny day.
Beautiful words and personal notes,
became a healing force,
Now for sure I'm OK.
I felt the power of the card.
2009
*****
Wishing
By
Dennis C. Orvis
I wish I could catch a happy bird to sit in your window sill,
and sing to you at your command.
I wish I could send you a pair of monkeys, to swing from your light fixture
do flips on your bed, make faces and wear funny hats.
I wish I could send you a loving cat to snuggle close to your
petting hand, purring in A flat.
I wish I could send you a frisky dog to catch a ball, or fetch your slippers
and maybe tease the cat.
And I will pretend I sent all these things to you with special care.
And maybe you'll pretend that I am also there.
Watch out the window for a parade of Fedex trucks loaded with
great big smiles.
And know that you are ever in our thoughts and Prayers,
across the many miles.
2009
*****
The Gift Box
By
Dennis C. Orvis
What can I send a friend that is not feeling as good as can be?
This is a burning question that really bothers me.
Of course, I could send flowers, a beautiful bouquet
But then how many days before the petals begin to fall away?
I could send a fruit basket with fruit gorgeous to see
Perhaps it would be much too much for one, probably
I could send a box of candy, chocolate, dark and sweet
But I'm not sure your doctor would say, "It's ok to eat!"
I could send you a book, one that's nice but not too thick
But I don't know what you would like, what book you would pick.
So now, dear friend, you see I have a serious problem or two
They might be ok some other time, but not today, not for you
Wait a minute! I have an idea. This may be something new
Imagine, if you will, the break of dawn, a spectacular view
The sunrise, the brilliance of a new day, so pleasing to your eye
Like snowflakes, no two alike, each one a masterpiece in the sky
Imagine again, if you will, a gift box of unmatched beauty
Filled to the very top with sunrises, so marvelous to see
And every day, anytime, even often, you can close your eyes
Reach in and pull out a sunrise for a wonderful surprise
But right now open your eyes and enjoy this preview just for you
Hope this special gift brings you cheers and a quick recovery, too!
2010
*****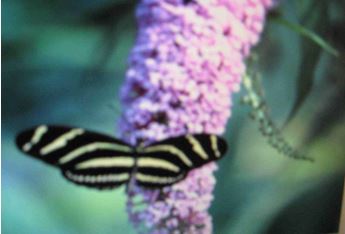 If I Could be a Butterfly
By
Dennis C. Orvis
If I could be a butterfly
I would stay close, near your flowers
Adding beauty to your eyes
For many peaceful happy hours
If I could be a butterfly
I would be the prettiest you've ever seen
I would bring smiles to all who see me
And flowering beauty that touch my wing
If I could be a butterfly
How softly I would circle and land
And wave my wings to your delight
While sitting on your lovely hand.
2010
*****
I Wish I Could
By
Dennis C. Orvis
I wish I could catch a happy bird to sit in your windowsill,
and sing to you at your command.
I wish I could send you a pair of monkeys, to swing from your light fixtures
do flips on your sofa, make faces and wear funny hats.
I wish I could send you a loving cat to snuggle close to your
petting hand, purring in A flat.
I wish I could send you a frisky dog to catch a ball, or fetch your slippers
and maybe tease the cat
I wish I could send you a dancing bear about three feet tall
I wish I could send you a miniature zebra to tap dance in the hall
I wish I could send you a pirate's chest full of sunrises,
or butterflies
or shooting stars…
Wow! Wouldn't this be something?
But most of all, I wish for you get well soon with happy hugs.
I wish I could, I wish I could, I wish I could, Oh, dear friend, how I wish I could.
2010
*****
Oh How I Wish I Could
By
Dennis C. Orvis
I wish I could sit here all day
And watch the dolphin's fun at play
And watch the pelicans dive for lunch
I wish I could, I do wish a bunch
I wish like the seagull I could fly
And catch a tasty fish passing by
And catch the wind with twists and turns
And play tag with black-headed terns.
I wish I could dive like an osprey
And catch a fish for my lunch today
And chase all the other birds away
I wish I could sit right here all day
Oh, how I wish I could stay.
2010
*****
Angel Tears
By
Dennis C. Orvis
Have you ever noticed there are different kinds of rain?
It's true, you know, look close when one hits your window pane.
There are big drops sometimes when the wind is blowing strong
And the sky seems angry as the dark clouds race along
Sometimes the rain falls softly dancing on the pretty flowers
The kind of rain one could watch for so many pleasant hours.
Sometimes the rain falls gently and the drops are very small
Perhaps on a day when you're sad and not yourself at all
I think those little raindrops are really angel tears
You see, it makes them sad when you are feeling kind of blue
If you search the sky, maybe you will find a rainbow
And if you make a smile those little tears will stop falling because you do.
2011
*****
The Gumdrop Tree
By
Dennis C. Orvis
In the land of Sillyopolus there is a wonderment
I wish you could see
It's so sensational, totally exclamational!
Golly gee and unbelievable
Exciting and unbeatable, a fabulous
One of a kind colorful tree
I cannot believe my eyes, it's a miraculous surprise
A gumdrop tree that's eatable!
Holy Cow, Momma Mia, gumdrops
Of every color there might be
And the flavors so delightful, mouth-watering
Super tasteful, it is true
It's like no other tree I have ever seen
With branches moving down to me
And dear one, if there was any way I would
Bring this wonderful tree to you
As I stare at this amazing find
I think of Johnny Appleseed
If I could I surely would
Plant gumdrop seeds wherever I might go
In the real world, the search for happiness
Is so elusive, there's a serious need
Gumdrop trees would bring great joy
What greater thrill could I ever sow?
2011
*****
Happiness
By
Dennis C. Orvis
The lane was lined with lollipops
So I knew the welcome mat was by the door
I placed the box of happiness there,
Because they would know what it is for
You see, happiness is not something to keep
It is a special thing that everyone should share
And when you do, it grows and keeps growing
Remember always, spread happiness for all you love and care
2011
*****
If I Could
By
Dennis C. Orvis
If I could gather all the get well wishes and put them in a ball
Like drifting dandelion seeds and carefully blow them into the air
And spread those wonderful, happy thoughts, filling the sky with rainbows, too
So you could see and feel their beauty floating to you from everywhere.
If I could you know I would.
If I could discover all the four-leaf clovers in the world
And make a lucky carpet woven together with your dreams
And you can close your eyes and travel to the greatest places
Where colors are the brightest, when the sunshine ever beams
If I could you know I would
Happy thoughts and rainbows, oh what a sky
With so many ifs and yet you know it is true
Many wishes and lucky clovers and sunshine
Wrapped in loving smiles just for you
If I could you know I would
2012
*****
A New Prescription
By
Dennis C. Orvis
Put two spoons of sunshine
Into your favorite cup
With some smiles from
Close friends you know
Add petals from a
Beautiful rose of red
Add fresh stardust,
Stir with a pretty rainbow
Take a sip whenever
You feel a little blue
And you will find,
These things combined
Will make you feel like new.
2012
*****
One Flower
By
Dennis C. Orvis
If one flower loses its smile
It changes the bouquet we all know
If one mockingbird stops its singing
The neighborhood music stops its flow
If one bulb in the chandelier doesn't light
The beautiful fixture loses its glow
You, dear friend, are that flower
And we wish you well, we miss you so.
2012
*****
Something's Missing
By
Dennis C. Orvis
Take the oyster from the stew
And what's left? Not much for sure
Take the chicken from the soup
And the noodles will be just plain lonely
Take the tomato from the BLT
And the BL's not the same
As you can see, dear friend,
We're hurting, too
'Cause we miss you and you only
2012
*****
Happiness is Waiting
By
Dennis C. Orvis
We're wishing you a get well quick
'Cause happiness is waiting to return
And we must not keep happiness waiting
For it's so lonely without you
So if we could make a dream come true
You know what it would be
For you to get well,
Happiness waits and we do to.
2012
*****
Three Koi waiting at the Little Pond
By
Dennis C. Orvis
The wind sends ripples across the gentle water
Watching the trees sway and dance with a wisp of sound
But something is missing as nature attests
And three Koi are waiting at the little pond
This picture is one that's incomplete
The water and the trees move uneasy at best
Both anxious and lonely feelings are shared
As the three Koi search the shore in quest
Oh, dear friend, you are missed every day
By this masterpiece nature has created
And it eagerly awaits your early return
And three Koi at the little pond will be elated
2013
*****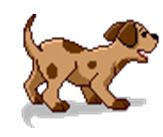 If I were a Puppy
By
Dennis C. Orvis
If I were a puppy I'd come running to you
I'd yap a couple times as I slide across the floor
Running to where you are, I'll be jumping up and down
Hoping you'll pat my head and I will beg for more
And when you smile I'll jump even higher
Because to make you happy is what I would love to do
And I'll be smiling through my happy, yappy song
With my tail wagging, my puppy song for you
2014
*****
The Red Rose
By
Dennis C. Orvis
Hello! It's me! I have a gift for you.
It's so pretty, I hope you like a red rose
It's a short stem kind of rose, short like me
And it sends its flowery perfume wherever it goes
2014
*****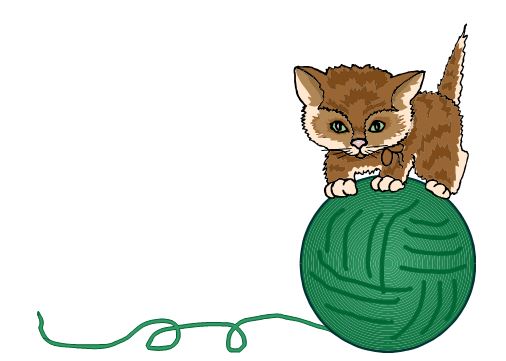 If I were a Kitten
By
Dennis C. Orvis
If I were a kitten
Would you be "smitten?"
If I looked lonely
Would you roll a ball to me?
If you looked lonely
I'd roll a ball of twine to you
And we would have a ball together
And we would smile in all kinds of weather
Oh, I wish I were a kitten
And meeting you for sure I'd be "smitten."
2014
*****
I Wonder
By
Dennis C. Orvis
I know you have been feeling blue
And I wish I could do something for you
I wonder if you would like a pie.
I have to guess but maybe its yes
Or I would surely wonder why
Would you like a southern pecan pie?
Or maybe a beautiful banana cream?
Perhaps a deep dish dark chocolate pie
How about a Dutch apple? It always makes me happle
I'm not too sure about rhubarb
You see 'cause that's my favorite for which I care
And when I think of rhubarb I remember,
It's something I rarely like to share
Oh yes, there are many other kinds of pie
Peach is hard to forget and yet
I wonder which one might catch your eye.
2014
*****
Can You Imagine?
By
Dennis C. Orvis
I planned to bring you a butterfly,
But its pollen season and they are all busy
But I met a hummingbird checking blossoms
In the apple tree
And I said, "Sir!"
And the hummingbird said, "Its mam, to you!"
So I said, "Mam, I have a sick friend
And I would be so appreciative if you
Could visit you see, would you?"
"Yes, but I will have to bring my kids,
Babysitters can't control them, if it's ok?"
"Sure, that's fine."
So, dear friend, if a humming bird shows up to cheer you up
She's a new friend of mine and it's ok.
She's going to bring her kids,
I don't know how many,
But I'm sure you will have a humming good time.
2014
*****
Coming – The Crow Quartet
By
Dennis C. Orvis
I was at the library whispering with the Crow's Quartet
And they asked me in four-part harmony
"How is your friend today?"
"I hope my friend is pretty good, but
Being sick there's regret"
The crows responded with melody
"We'll see your friend if it's ok?"
So be prepared, my friend, there is a quartet of crows
Heading your way
Don't be alarmed, they're really good,
You'll like the way they sing
There's no doubt they will soon be knocking
On your door one day
When you see them throw open your door
And enjoy a barbershop fling.
2014
*****
Would you like a pet?
By
Dennis C. Orvis
I hope you are feeling better and I'm wondering if you would like a pet.
My first thought would be to give you a kitten, to purr in your lap
Maybe black with white boots, or yellow with stripes
Or Siamese, but they are pretty fast
Oh wait a minute. I can't do that.
I don't even have a cat.
How about a puppy or a guppy?
Sorry, I don't have any kind of dog
And I certainly don't have a fish bowl
But tell you what! How would you like a frog?
Ribbet, Ribbet!
2014
*****
Wishing, Again
By
Dennis C. Orvis
I wish I could send you a miniature elephant
Wearing a red cowboy hat to stand on his head
And wave his trunk at you
I wish I could send to you a real tall giraffe and a
Pair of monkeys sliding down his neck
And a hippo that plays the tuba
And he will play your favorite song for you
And it will sound really, really long, by heck!
Could I send you a lion?
If it promises not to roar after six pm?
I know it always sounds scary after dark
And one more thing, Barnum and Bailey circus called
And said a couple clowns will be stopping by.
Look for laughter outside your door.
I'm going to the zoo now to get a baboon
That will chase the demons out of your room
And a trio of pink flamingos
To dance on your hardwood floor.
2014
*****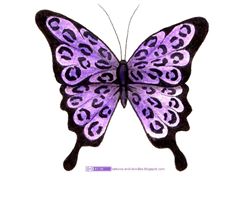 The beautiful message
By
Dennis C. Orvis
Once there was a hard luck man
Heavy with depression, sadness he could ill afford
He looked skyward and prayed, "Please help me Lord!"
And a beautiful butterfly landed on his hand
He brushed it away and continued to pray
In his thoughts he has given up, his will was gone
It seems his efforts all failed, those tried went wrong
And the butterfly returned, refusing to go away
He lowered his eyes, studied its beautiful wings
Suddenly he saw something deep beyond the beauty
He felt a wave of peace replace his self-pity
Realizing the Lord had sent one of his beautiful things
Perhaps if we are lucky as we travel life's course
There will be moments like these presented our way
We must be alert for the messengers each day
And enjoy the Lord's wonders in the beauty offered before us.
2015
*****