(In order by date written)
BUBBY BEAR
By
Dennis C. Orvis
Let me introduce myself,
I am Bubby Bear
I can sit on a shelf,
Or even anywhere
What do I do you ask?
Listen to a few
I'll listen when you talk to me,
I'll keep your secrets true
I'll be your special friend
When you are feeling blue
And I'll be cheerful
When you are cheerful too
When you are busy with other things
I'll never make a peep
And I will watch over you,
When you are fast asleep
Well, Adam, that's what I do and what I am,
It's with love I come to you,
Can I be your special friend?
1992
*****
ADAMS' BIRTHDAY
By
Dennis C. Orvis
Something happens in September,
What can it be?
Oh, we remember
It's Adams' birthday and we can't wait
To see four candles
On a yummy cake
And to see the sparkle in his eyes
With every present
A nice surprise
Wrapped with tender loving care
A game, a toy
Something to wear
Each gift is special and you are too,
So blow out the candles
And we'll sing to you
Happy Birthday, dear Adam, wish we were there
We send you our love
With Bubby Bear
1992
*****
A DOZEN FOR MICHELLE (revised)
By
Dennis C. Orvis
One, two, three…seems like yesterday when you were only three,
Small and cute, golden hair and so much energy.
We've seen Floppy, Mickey and Shamu, even the Worlds' Fair,
Swings at Baseball City and it's no longer there.
Four, five, six…You loved jumping on the trampoline,
The swings, the slide and falling off the walking beam,
with beauty frost?
The joy we shared in the woods, finding golf balls that were lost.
Seven, eight, nine… wasn't Busch Gardens fun? Great tornado ride?
Swimming the ocean and Gulf on the Tampa side.
Loved the races at school, Wow…How you really could fly.
Then gymnastics and your friends at the Lakeland Y.
You learned the vault and the bars with excitement and more
Your practice developed pure grace on the beam and the floor.
Ten, eleven…many ribbons, then medals of success,
The Meet at Browns, first all-around, you were the best!
Twelve, twelve candles on a cake, it's so pretty just like you,
And as much as we have shared, there is far more yet to do.
And now for you a wonderful gift. What could it be?
Birthday wishes? You can be sure and we will give you three.
The first is for special happiness in all that you seek,
The second for terrific friendship with all that you meet.
And then the third is for true love and the joy that it shares,
With all those around you and a loving family that cares,
Happy Birthday, dear Shelly, with your bright twinkling eyes,
We know your shining star will ever continue to rise.
Love ya, Nana and Papa
1992
Revised March 2009
*****
EMMA'S SPECIAL DAY
By
Dennis C. Orvis
I think I smell a cake, I wonder where it is,
I went running up the stair, I put my nose into the air
SNIFF, SNIFF, SNIFF,
No, the cake is not up here…
JUMP, JUMP, JUMP
Down the stairs I go,
Through the living room, no cake there,
I run quickly to the Den,
Barneys' singing on TV,
Happy Birthday, is that for me?
Wait, I hear more, there is music
Coming through the door,
To the kitchen I am going,
Fast as I can go.
Now I'm going through the door and whoa!
There it is, three layers high and
Five candles I can see,
It is beautiful and now I know
It is really just for me.
Wow! Wow! Wow! Is all I can say.
It surely is my very, very special day.
'Cause everybody is singing loud and true,
"HAPPY BIRTHDAY, DEAR EMMA
HAPPY BIRTHDAY TO YOU…"
WOW! WOW! I am Really Five, NOW!
1996
With great love From Nana and Papa
*****
ETHAN, THE RISING STAR
By
Dennis C. Orvis
All we can see is a blur, in the bright afternoon sunlight,
Looking like a whirlwind, it is spinning so fast, first to the left, then to the right.
Could it be an army of ants, in many colored shirts?
Running and kicking and darting in spurts.
But look! That one is suddenly leading the way,
Dancing with the ball, like a kitten at play,
His kick is straight, his aim is true, and a shot we cannot forget
The defender is frozen, the swift kick sails by and quickly hides in the net
GOAL! Everyone yells, while high fives travel the field, to the friendly end,
And the kicker, not yet six, is our Ethan, with an angelic face and devilish grin.
And he smiles with the corner of his eyes,
The trophy is his…and our heart is also his prize.
2000
*****
THE RUNNING GOES ON AND ON
By
Dennis C. Orvis
Years ago, when we were young, there was a book called, "What Makes Sammy Run."
It became a movie too, it wasn't hot for no one today recalls the plot.
But the running goes on and on…
We don't know why people run, some for pain, some for fun,
Some just run to get away, some for peace or charity.
And the running goes on and on…
He watched the runners, Tobins' young son, each year in the Boston Marathon.
He later became one of the few, as a Massachusetts' native and Marathoner too.
And the running goes on and on…
Heartbreak Hill was tough a time or two, but recovery was only a matter of days,
Worse by far, the computer chip, forgotten on the shoe, banned from Boston, folly and
Futile in many ways.
And the running goes on and on…
Cleared finally, of intentional wrong, the Boston Powers said, "Carry on, Runner Stu."
As if he ever stopped, to his knees he never dropped, he ran the Disney and the New
York Marathon, too.
And the running goes on and on…
Stu runs the weekend jogs, short runs for charities, like town events, July fourth "and
Every one a breeze," he said aloud
And sometimes running by his side, son Adam, who can really glide and a winner too,
Best of Class, making Stu extra proud.
And the running goes on and on…
There is more, daughter Emma is fast and Ethan at five, will never be last and you ask
Why?
Maybe it is in their genes, perhaps, Wife and Mother, LeAnn, was in High School Track,
On a team that could fly.
And the running goes on and on
Running is the reward, to marathoners, but some like Stu, have many highs, we've named
A few, here is another
His handicap partner in the '99 New Yorker, was an amputee, with one leg you see, and
Set a world record, faster than any other.
And the running goes on and on…
Now Stu is forty. What has changed? Nothing but his age. And that is just great. We are so very proud. Have a happy forty. It's ok and you're ok. We love you.
Let the running go on and on and on and on.
1998
Dear Stu:
I have been asked to write a poem on this great occasion. As you know I have written for Presidents (of Chambers of Commerce) and many other famous and or influential people, not the least of which, is me. So with the few moments I have in my incredible schedule, I will give it my best shot, probably a sand wedge.
Becoming forty is very special. I used to think it was very old, but that was forty years ago. I mean it would be worth a few bucks to be forty again. So my best advice is to roll with it. Blow out the candles, all of them, which should be easy for a marathoner with your credentials. With forty candles, you should be done about the same time my poem ends. So here it is with our love.
Nana and Papa
*****
I SAW YOUR FATHER
By
Dennis C. Orvis
I saw your father this morning,
in the mirror, I was shaving and he was there.
With lather bubbles forming,
his well-known smile and eyes were clear.
He said, "Howdy," his trademark greeting,
I nodded with a friendly stare.
"It's a special day," I told him,
"Yes, I know," he grinned, with a Welshman's flare.
"Today I'm seventy-five, it's special, except
I believe it should be fifty or at most fifty-four."
"I don't have time to be this old,
I've got so many things to do, places to go and more."
"There are so many golf courses
I have yet to see and yet to play."
"There are so many miles to travel
With my loving wife, every hour, every day."
Then he rinsed the remaining lather.
"You're still a handsome dog," I told him with a wink.
His smile got so much bigger
and he replied, "I'm younger than you think!"
I saw your father this morning,
in the mirror, I was shaving and he was there.
He turned and began to walk away.
Still terrific, even with his thinning hair.
And I think I heard him singing
like a butterfly, just turned free.
"Happy birthday dear Papa,
Happy birthday to me!"
September 22, 2004
*****
Our Favorite Spook
By
Dennis C. Orvis
It's a special time for many reasons
One is the beautiful leaf changing season
And Halloween will soon be here
With spooks and monsters for us to fear
Going door to door for tricks or treat
Loaded with bags of goodies to eat
Scaring all grandparents and even the cats
With costumes and masks and weird looking hats
It's a special all right for one reason more
It's the birthday of one goblin that we all adore
Our favorite spook, Ethan, will be a big TEN.
Happy birthday, dear grandson, with love and kisses, again!
From Nana and Papa
October 2004
*****
TO LEANN WITH LOVE
By
Dennis C. Orvis
We cannot choose between sunrise and sunset
Nor can we select a favorite star.
We love all our children equally
We love each one for who they are.
And you, Dear one, were the last of three.
Long, lovely and such a radiant face
With soft blue eyes and golden hair
You filled our hearts with newborn grace.
You enriched our lives as we watched you grow.
Always eager to learn and you did it so well
Through Scouts and Charities, always doing your share
On the girls winning relay, you did excel.
When Dad's career moved us from State to State
You were sad to leave but soon made new friends.
Becoming a Class officer was simply great
And you served very well with leadership trends.
You graduated with honors from Somerset High
College acceptance was easy, you selected Mass U.
Our house became empty, you were the last goodbye
And our hearts were heavy, just thinking of you.
A very good student, you continued to be,
And your summers at home were never a bore
The challenge of working came quite easily,
A bank, Aetna's basement and Edgar's big store.
The Student Credit Union played a pretty strong role,
You soon rose to President bringing out your best,
By training fellow students and setting the goal
Of convincing Umass Trustees where to invest.
Graduation made us proud as your career path formed
With Connecticut General and a man named Stu
Followed by your wedding at the "Q" Club
A move to Newton where a Mercer's job found you.
Next came a Condo in Norwalk, then the Roosevelt Street house,
Where Nana and Papa, happy painters, turned work into fun,
And waited for the birth of your very first child,
Adam, by name, and grandson number one.
Three years later you blessed us with a little girl,
Reddish hair and great smile, Emma Rose was her name.
We were there sharing your joy and a doll so unique,
Your family and house was never the same.
As time moved on we were all blessed once more,
By a second son named Ethan and we were there
To welcome him as we did Adam and Emma,
To hold and rock him and stroke his dark hair.
We cannot forget a cat named Sam
Who brought four-legged excitement, raising a brow,
He remains with us still in Papa's early story
Titled, "Adam, Sam and the Magic Cow."
You and Stu found a new house in Weston
Where schools were rated among the best,
You sealed the deal and your new life began
Though you moved only seven miles west.
Oh yes, there was surely work to be done.
But this challenge never scared us before
Your favorite painters arrived and the paint it did fly
They painted everything, you know, but the glass in the door.
Papa helped Stu build a swing set and a treeless house
They also built a storage shed in the trees
If that wasn't enough they painted the whole house
And stepped back together saying, "It was a breeze."
In summary, Dear Pumpkin, we could not be more proud.
You have excelled in your life, your work, your family and home.
You have fulfilled our every wish and dreams just for you.
You have always had our love and now, Sweetie, you have a "Poem of your own!"
From Mom and Dad
Christmas 2004
*****
NICKY
By
Dennis C. Orvis
Grandchildren are so very special, A day at Universal Studio in Orlando
Whether girls or boys, it's the same. Gave him a smile ever so wide.
This one, a boy, certainly qualifies, Many days at Cypress Gardens,
Nicky is his given name. Many thrills with every ride.
His home is Kentucky, which isn't close The Roller Coasters at Busch Gardens
For a thousand miles or more, Were extremely wild.
So it's a special joy to see him, Swimming often in a nearby pool
And how he's grown from before. Refreshed our summer heated child.
He turned eleven back in May, He spent two summer months with us
Eleven going on twenty-one. And the days flew quickly by.
His energy level never slows At times he said it was much too long
Stopping only when the day is won. And tears would seep into each eye.
Keeping him busy is a full time job, It's normal, of course to miss his home
For grandparents of any year. We do not doubt this is true.
And whenever activity might stop, But Nicky dear, it is longer for us,
Boredom was ever near. For the other ten months without you.
July 2005, With Love
Nana and Papa
*****
ETHAN – 2005
By
Dennis C. Orvis
'Twas the night of Halloween,
when ghosts and goblins could be seen,
And the eerie noises would send
shivers up and down your spine.
There was a party going on
with spooks in costume having fun,
giving the honored Spook a great big BOO!
And the music floated by
like witches in the sky,
HAPPY BIRTHDAY, DEAR ETHAN,
HAPPY BIRTHDAY TO YOU.
To our Grandson,
Born on Halloween 1993
*****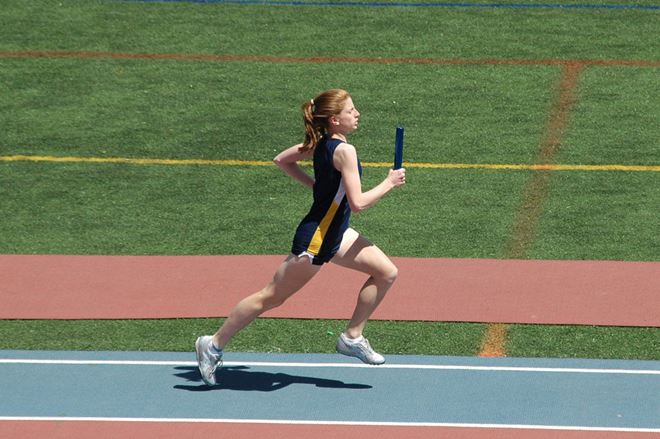 THE RUNNER
By
Dennis C. Orvis
As you wait to hear the gun that will start this race you run,
Remember what brought you to this line. With dedication you did train,
Even running in the rain, and qualified with a special time.
It's the all New England Meet, with many fine teams to beat
And this will be the toughest test, but there is nothing to fear,
As the starting time is near, one goal: to run your personal best
You can hear the track meet sounds as you take a glance around
And see the teams running in your heat. You can see in every face
Of the runners in your race, they know Weston is the team to beat.
Maybe they've seen you run before or heard about your time and more
So give them a race they'll not forget. When the starter's gun is lifted,
Remember you are gifted by our love as you prepare your set.
The gun is loud and off you go, not too fast and not too slow,
The perfect pace for a winning stride. This is time for show and tell,
This is why you trained so well, confidence, the secret of Weston pride.
As the finish line comes near you'll hear cheering in your ear
With Nana and Papa louder than the rest. Our cheer is not for winning,
our cheer is for you trying. We already know you are the very best.
(March 2006)
Authors' note: This is our granddaughter, Emma Rose Tobin,
running in a track meet as a freshman. In her senior year, 2009,
she was honored as only the second athlete in the history of Weston, Connecticut
High School to be named ALL-STATE FOUR YEARS IN A ROW!
*****
LITTLE VICKI LYNN
BY
DENNIS C. ORVIS
"You have a beautiful daughter and everything is fine."
Words from Doctor Vince soothed anxiety in my mind,
Joy overwhelmed me and my heart was beating wild,
Happiness anew, a gift of our first-born child.
"A daughter," I told my wife, "So beautiful just like you."
"You're right," she said at first look, "She's beautiful, it's true."
Holding her close she said, "We'll call her Vicki Lynn."
Keeping her warm in the drafty old ward, cooled by October wind.
Our lives changed that very moment; our family of two was now three.
And the exciting love overflowed in the Iowa town of Waverly.
One hundred fifty dollars was the bill from the Doc and hospital, too.
Our two insurance policies gave us a profit, a gift from little you.
When you were born my work started early and ended late in the day.
My time with you was nearly limited to Sundays, much to my dismay.
You were prettier than Shirley Temple, charming all you met.
And by nine months you were walking, a moment we won't forget.
Sucking your thumb was cute until your finger reached your eye.
But with a new bike reward and a struggle you told that habit goodbye.
You often fought bedtime until a short car ride brought sleep your way.
Then in '56 your brother was born and you helped your Mother every day.
Your great grandparents, George and Bessie, shared the duplex where we lived then.
The duplex was a goal of a seven-year project, something we'd ne'er do again!
With two panels missing on the common wall, you spent much time in their part of the house.
Where Grandma showed you how to slide off her high bed and how to say hippopotamus.
We remember the contest at Stauffer's Drug; a Nurse Doll was first prize in the game.
And every day, Little Vicki walked to that store to register by signing her name.
It was a safer time then, we did not fear three blocks our Little Darling walked.
And you were the delight of the store employees; of your determination they talked.
On Saturday when the winning name was drawn, you were so sure you would win.
Late afternoon when our phone rang, the Drug Store called telling us to bring you in.
We rushed to the store where the owner and employees were waiting with the first prize.
You won and someone said, "A beautiful doll for beautiful Little Vicki with pretty blue eyes."
In 1958 your sister arrived, a pretty Darling we called LeAnn Rae.
You were your Mother's little shadow, ever helping throughout the day.
When your Mother worked downtown, you helped your great grandmother, too.
By being the leader at play with your brother and sister, her job was easier to do.
You brought us much joy that continues yet today,
With a warm friendly smile you brighten everyone's way.
As you have always helped others, nursing was a fine career.
You were more than good for those you served, an Angel ever near.
We have watched you grow in so many ways and in every way we have been proud.
You were always the happiest face, in the center of every crowd.
You gave us two wonderful granddaughters, so pretty and so very smart.
You have always been and will always be Little Vicki Lynn in our heart.
2006
*****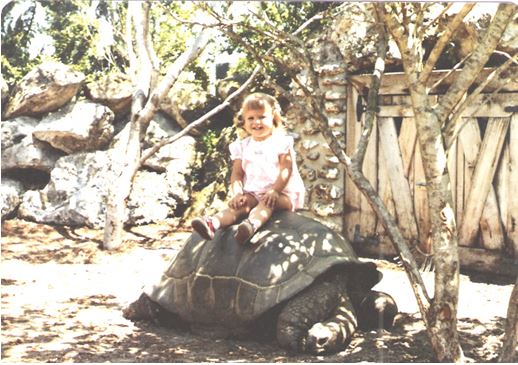 A RIDE WITH MR. TURTLE
By
Dennis C. Orvis
"Good morning, Mr. Turtle! How are you today?"
"I'm fine, so very fine and how are you, what say?"
"I feel really good. May I share a ride with you?"
"Yes you may, yes you may, join with me, please do."
"Tell me, Mr. Turtle, where would you wish to go?"
"If I have a wish, I'll choose Turtleland, you know!"
"I would too and with my magic ring I will wave my hand!"
"Magic Ring, Magic Ring, take us please to Turtleland!"
"Is this Turtleland, Mr. Turtle? It's so pretty, it must be."
"Yes, it's magic! See the flowering Murtle tree?"
"Oh my, the flowers are as big as me, Orange and Yellow and Blue!
It's the biggest tree I've ever seen! Everything to me is new!"
"Look, Mr. Turtle! I see a purple rabbit over there!"
"That's not a rabbit, it's a Rurtle, going to the County Fair,
To enter the Rurtle races. First prize is a Wurtle Carrot!
But every Rurtle wins because the winners' always share it!"
"Here comes a Burtlefly," he said as it landed on his head.
And it started dancing with its' gorgeous wings so rosey red.
But Mr. Turtle, unable to move his feet, blinked his eyes to the beat.
Until he started getting queasy and his chubby knees got weak.
The Burtlefly flew when Mr. Turtle gave a sudden shake.
The Little One held on tight, as it was a major quake.
When the shaking stopped, she was sitting still on top.
"Are you ok, Mr. Turtle? You worried me a lot!"
"Yes, I'm ok, my young friend. I get excited now and then.
Nothing serious, Little One. I'm so happy here in Turtleland."
"Thank you, Mr. Turtle, for showing me the Murtle tree,
And the Rurtle and the Burtlefly so lovely to see."
"But it's time for you and me to return where we started,
Turtleland is wonderful, please don't be brokenhearted."
"I'm fine, so very fine and I enjoyed our trip to Turtleland."
"Me too, Mr. Turtle," she smiled and waved her Magic Ring again.
"We are back where we started! That was fun Mr. Turtle."
"Yes it was Little One and you can call me Mr. Purtle."
"And I will. What a wonderful day visiting Turtleland,
With Mr. Purtle, my new and special friend.
2006
Note: I took this picture of our granddaughter, Alicia, April 1981
*****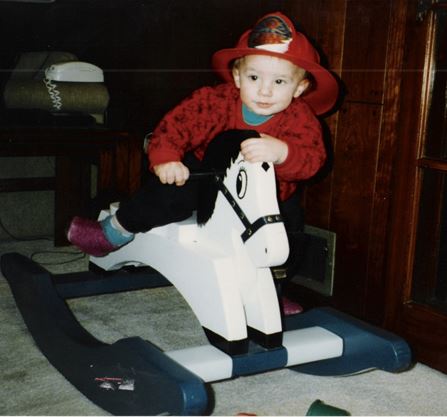 THE RANGER
With his steely eyes on the trail ahead
Where so many unknown dangers wait,
He straddled his ever-faithful steed.
He pulled tight the strap on his hat of red
As four powerful legs began their gait
In pursuit of those bent with evil greed.
Together these two will track 'em down,
The long miles and time will matter none,
Nor will the fierceness of the expected fight.
The chase will end when bad guys are found,
The fight will end by the setting Sun,
As the brave Ranger again protects what's right.
(Note: This is grandson Ethan, age 2, 1996
and the new rocking horse I made for him.)
*****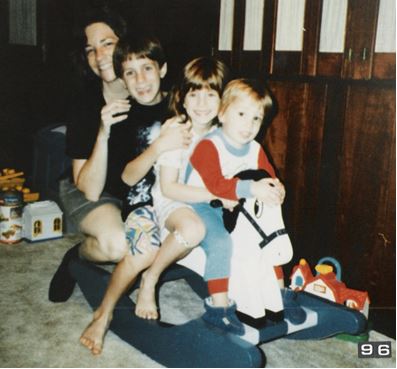 HEY! WAIT FOR ME!
By
Dennis C. Orvis
It was fall, again, in New England
When we visited our Daughters' family.
The Foliage was so very special,
Much like our Grandchildren, who numbered three.
Anticipation runs extra high
When loving Grandparents are bearing gifts, of course.
The little one got a big surprise,
I made for him a beautiful, wooden Rocking Horse.
It was exciting, to say the least
And I planned a photo of the riding three.
Just as my camera came in focus
I heard a voice call out, "Hey! Wait for me!"
Before the flash could do its' thing,
Their agile Mother swiftly saddled on behind.
And there it was four on a horse!
And I captured this wonderful moment in time.
Daughter LeAnn and three Grandchildren
l-r Adam, Emma and Ethan
Note: Photo taken in 1996
Written in November 2006
And I love it!
*****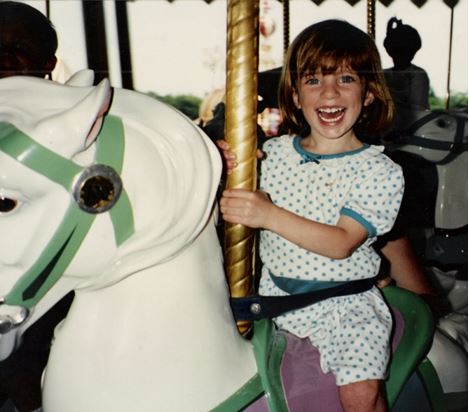 I'M GOING TO DISNEY!
By
Dennis C. Orvis
"I'm going to Disney!" She said at age three.
Causing shock waves from her Mother and laughter from her bigger brother.
"I'm going to Disney!" She said at age three.
Her Daddy said, "Who told you that?" She sweetly smiled, "Bob, the Cat!"
"I'm going to Disney!" She said at age three.
Telling every neighbor living near her house. "I'm going to Disney and see Mickey Mouse!"
"I'm going to Disney!" She said at age three.
She told Mike the mailman every day. Telling store workers and shoppers along the way.
"I'm going to Disney!" She said at age three.
And she did. What do you think of that? If there's a problem see Bob the Cat!
November 2006
Granddaughter Emma Rose photo – 1994
*****
DEAR DAUGHTER
By
Dennis C. Orvis
Should there be a day we don't think of you, it would be as rare
as Spring without Flowers, foliage without color,
birds that never sing, or Zoos' without a single bear.
We cannot imagine Spring without flowers,
Foliage without color, Birds that never sing,
or Zoos' without bears.
We cannot imagine a day we don't think of you,
You are the beauty of the flowers, You are the foliage in the fall,
You are the music of the birds, And the teddy bear in our hearts.
You make such a huge part of our life so extra wonderful.
So you see, Dear Daughter, as you celebrate this important day,
It may be your birthday, but you have always been our present…
…and we love you very, very much. Mom and Dad
October 16, 2009
*****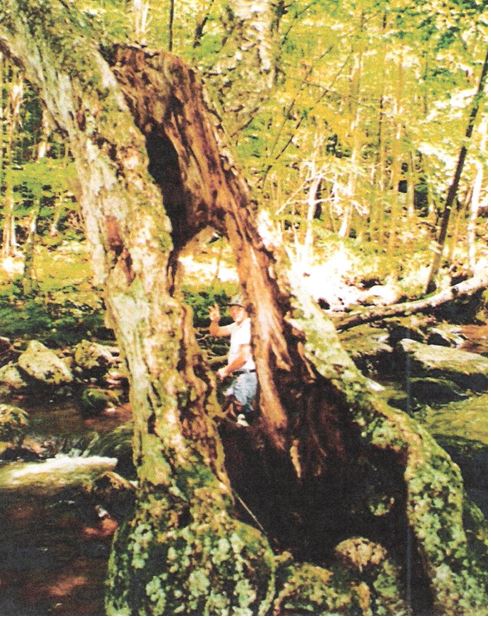 THE MOUNTAIN STREAM
The dancing ripples of the mountain stream gave away its hiding place,
Like soft laughter, giggling among the moss covered rocks,
Deep in a small rain forest of birch, maple and oaks of algae green,
Where fallen trees are bridges for turkeys and the fox.
The water is very cold and in places only ankle deep,
Still the experienced fisherman will tempt a reckless bite,
By the sly old mountain trout hiding where it should not be,
And perhaps that foolish trout might be a dinner guest tonight
2007
Note: I took this picture of our son, Dennis in the mountains of West Virginia 1995
*****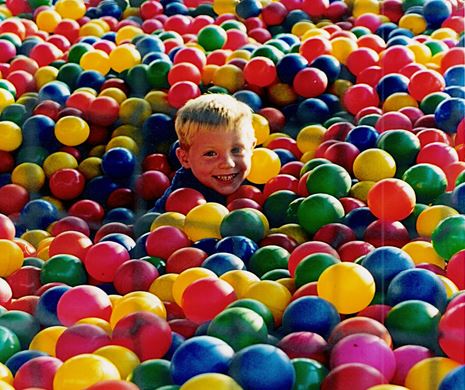 THE COLOR OF A BOY
By
Dennis C. Orvis
We all know boys are different, and this is a well-known fact.
Why? One example, there is more dirt, below his crooked hat.
Boy-dirt is not a color, it is a trail that fun has made,
A spin-off of his activity, residue of games he's played.
So, what color is a boy? He is many I would suppose,
Much like a rainbow in the sky and the freckles on his nose.
He is yellow, yes yellow, of course, for the sunshine's energy.
Wild as the many dandelions, sweet as the early Daisy.
He is green, yes green, for sure, the sign of go, here and there
He is busy as a swarm of bees always racing everywhere.
He's blue, yes blue as you can see, arms with bruises or on his knee.
Boys really love to climb and sometimes fall from a neighbors tree.
And he is red, yes red like a beet, maybe a sunburn, perhaps
Or his face might be flushed from biking, hiking, running bases or laps.
Like the beauty of the seasons, he's a rainbow we adore.
So what color is a boy? These colors and so many more.
2007
Photo: Grandson Nicky 1998
*****
The Grandchildren are coming!
The Grandchildren are coming!
By
Dennis C. Orvis
"Hi, Mom and Dad," the sweet voice said
"Would you like a couple cute kids for a few days?"
Well, sure we would, that'll be good,
We'll do many things in Florida's sunny rays.
The Grandchildren are coming! The Grandchildren are coming!
Oh my, there's much to do, I'll follow you,
to put the knick-knacks up high.
"Wait!" she said, "Don't lose your head,
they're grown up now, that's why."
The Grandchildren are coming! The Grandchildren are coming!
Sorry, I just forgot. Not one of them's still a tot.
Time passes quickly and that's a fact.
Something also bothers me, wondering what they'll want to see.
We cannot do it all before they must go back.
The Grandchildren are coming! The Grandchildren are coming!
They came, our days were full, no single day
was dull, then from the airport they flew.
To see them go made us sad, though the days shared
made us glad and they had to go back for school.
The Grandchildren are coming! The Grandchildren are coming!
Our house is quieter after, but we still hear their laughter
and the memories of joy are better than ok.
So many things remind us of the special love that
binds us, until once again we can say,
The Grandchildren are coming! The Grandchildren are coming!
2007
*****
MONKEY? MONKEY!
By
Dennis C. Orvis
Its name is Monkey!
It's all black
Four-legged and fur
An occasional purr
Its' name is Monkey!
It's a CAT!
It's a boy!
He's the joy
And for age eight months
He's reasonably good,
Except for biting and
Scratching and fighting
And chewing anything, even wood!
And yet, in the dark of night,
I feel his fuzzy head,
Rubbing against my hand,
Intentionally I ignore
His affection amour
When he tries to wake me
By kissing my nose!
I know too, he's all charm!
In our granddaughter's arms,
She owns this rambunctious feline.
She smiles with deep pride
Making us warm inside
We know as the kitten grows
Everything will turnout fine.
Here Monkey! Kitty, kitty, kitty!
2009
*****
GRADUATION
To our granddaughter Emma Rose
By
Dennis C. Orvis
It's graduation time,
The many years in school
And the happy high school years are done.
It's graduation time,
And our thoughts review your
Years from talking, walking and growing up fun.
It's graduation time,
And a new chapter will soon begin
College, new friends, new challenges to be won.
Its' graduation time,
An exciting future waits
Remember we love you always, in our heart you're number one.
2009
*****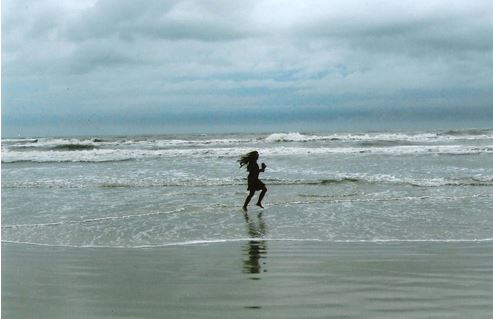 The Spirit of Youth
By
Dennis C. Orvis
Like a wild horse with the wind in its mane
Racing freely under the stormy sky
Defying salty white caps charging the beach
The Spirit of Youth has caught my eye.
Absorbing energy out of the air
The wind, the sea and the atmosphere
No baggage to carry, only dreams to chase
The Spirit of Youth has nothing to fear
How blessed I am to capture this vision
A rare moment indeed, almost surreal
To know it is true, to know it lives on
The Spirit of Youth, future hearts will feel.
2010
*****
The Hippo
By
Dennis C. Orvis
There is a Hippo in the hamster cage,
A picture I cannot comprehend
Our granddaughter phoned when I was alone
She was excited; my mind's a blur
And my hair is standing on end!
How can it be? How big is the cage?
Surely he is not running the wheel!
Then she said whoa, Gramps, don't get a cramp
Hippo's his name, not his natural frame
Hippo's a hamster, cuddly and real.
2010
Note: For Emma Rose and her new hamster.
*****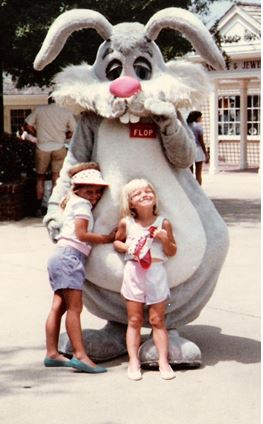 Cypress Gardens Memory #1985
By
Dennis C. Orvis
In 1985 there was peace at Cypress Gardens,
Florida's first theme park for families to appreciate
The entrance fee was small and the annual pass hardly more
It was always a special place that many praised as great
Our memory chest filled with Gardens' moments we share
Our young granddaughters adored the big rabbit, Flop was his name
Every time we visited the Gardens they would seek him out
He did not work every day and his days off were not the same.
I recall one time when they saw him, they quickly ran his way
Together they jumped right into his open arms and knocked him down.
Then the three of them lay laughing, Flops' big belly kept them there
His suit, a tough challenge, but others helped me get him off the ground.
So many Gardens' memories our family has enjoyed
So many happy days with family and friends, truly blessed.
And if you ask our granddaughters which time they like the most
They would reply, "Rolling, rolling with Flop, the rabbit, was the best!"
2010
*****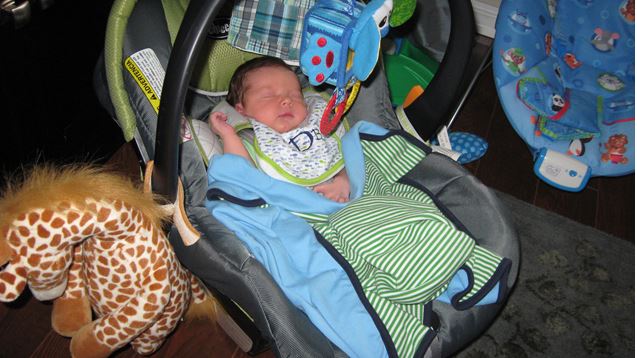 Five Days Old
By
Dennis C. Orvis
written for: Dean Burton Dorsey
Five days old, wrapped in blue
In deep sleep, yet a faint smile is seen
Five days old, parents beaming,
Grand parents too, his lovin' name is Dean
Five days old, great Grand parents,
Impossible to restrain, Love power between
Five days old, the future on hold,
While love surrounds, to capture every dream
April 2010
From: Great Aunt Edie and Great Uncle Denny
*****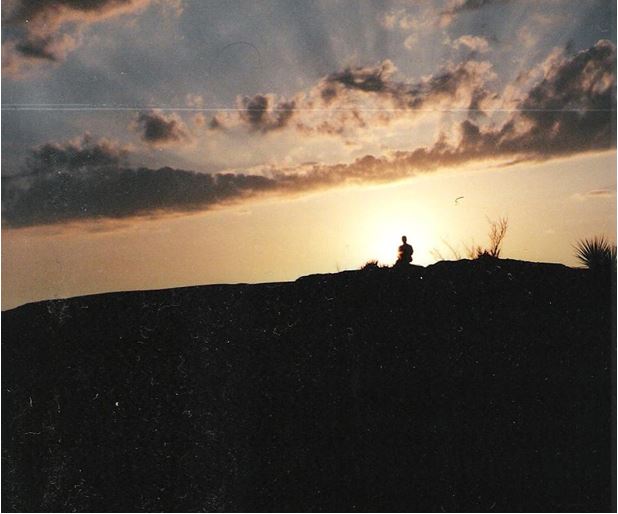 The World Stands Quietly
By
Dennis C. Orvis
Under a sky of celestial beauty a man
sits on a distant hill.
Alone with his thoughts perhaps or
his Bible and a silent prayer.
Absorbed in the magnificent sunset
while the wind is patiently still.
The world stands quietly and waits
in the solemn evening air.
2010
*****
A Dozen Days 'til Christmas
By
Dennis C. Orvis
It's a dozen days 'til Christmas; my wife is checking sales in every store
In case she finds a bargain she can't refuse, when the price is right.
Not for this year, you see, she was done with that in July or before.
She always buys for her list early, wraps and hides it out of sight.
She never has any last minute shopping before Christmas Day
You might even be with her in a store, maybe looking with a wish.
She'll ask you what you want for Christmas; maybe it's April or May
She will buy it; take it home for Christmas wrap, checking you off the list.
And then on Christmas morning with the family around the pretty tree
You will open the gift you selected with a happy surprise
Whether or not you remember selecting it on a shopping spree
My smiling wife will know you love it by the sparkle in your eyes.
2010
*****
HAPPY BIRTHDAY, LITTLE VICKI LYNN
(Vicki 56)
By
Dennis C. Orvis
"You have a beautiful daughter and everything is fine."
Words from Doctor Vince soothed anxiety in my mind,
Joy overwhelmed me and my heart was beating wild,
Happiness anew, a gift of our first-born child.
"A daughter," I told my wife, "So beautiful just like you."
"You're right," she said at first look, "She's beautiful, it's true."
Holding her close she said, "We'll call her Vicki Lynn."
Keeping her warm in the drafty old ward, cooled by October wind.
We have watched you grow in so many ways and in every way we have been proud.
You were always the happiest face, in the center of every crowd.
You gave us two wonderful granddaughters, so pretty and so very smart.
You have always been and will always be Little Vicki Lynn in our heart.
************************************************************************
It has been four years since I wrote the words above
They are part of a longer poem so filled with love
Nothing's changed. How wonderful; everything is ever great
Except those four new candles on your birthday cake!
Happy Birthday! Little Vicki Lynn and many, many more.
Mom and Dad
October 16, 2010
*****
The Wedding Blessing
By
Dennis C. Orvis
Dear Lord:
We gather here in spirit today to share this wonderful and exciting
event, touching each and every life of those who love
Donna and Dennis.
We thank you for the many blessings that brought us to this moment in
time.
And now we look to the future, as these two hearts go forward as one,
we wish for them the greatest gifts of all…
good health and happiness,
as the rain is to the flower,
to grow and nourish their life together.
We ask your blessing on this joyous occasion, safe journey in their life
together, and us. forever, in thy service.
Amen.
March 10, 2011
*****
Helping my Grandpa
By
Dennis C. Orvis
Anyone who knew my grandpa would probably say he was a friendly man. They would quickly add, he was a very hard working man.
In the summertime he mowed about a dozen lawns regularly and that was with the old push lawn mower.
He would also plant gardens for shares with anyone who had a small piece of land.
In the wintertime he shoveled sidewalks and driveways for the same people whose lawns he mowed in the summer.
Because of family problems I spent some time living with my grandparents. I don't remember the first time because I was very young. Matter of fact, I was born in their house September of 1929.
The next time I was ten or eleven. I attended third and fourth grade at the Waverly Lincoln Elementary school. So for a couple years I was my grandfather's first assistant. I remember we mowed many lawns and shoveled a lot of snow. And on some snowy Iowa days, we shoveled them twice.
I returned to live with my grandparents again when I entered the eighth grade and I stayed with them through graduation of high school.
I must admit I might not have been the best help to him. It was fun at first when I was ten or eleven, but when I became a teenager it was work.
It would be easier to list jobs I wasn't too good at like picking raspberries or gooseberries. I wasn't good at weeding gardens either and he said I always mowed lawns too fast.
But even though I was not perfect, I always knew he loved me very much. Grandpas are good at that and he was the best.
2011
*****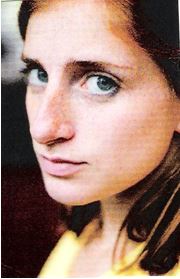 Emma
By
Dennis C. Orvis
We've seen your face a thousand times and yet it is so different today
Your beautiful eyes grabbed our hearts, holding them near for a while
And there we're happy prisoners as long as we can stay
Ever intrigued and haunted by your Mona Lisa smile
It seems like yesterday when we rocked you in our arms
And today we're overjoyed of who you are and your unending charms.
2011
*****
Hello, Precious
By
Dennis C. Orvis
Hello, little Darling, We are so glad you are here
Born on seven, eleven, eleven, lucky numbers to cheer
And you are to be named Arianna, what a beautiful name
From this moment on, our lives will never be the same
We can hardly wait to hold you and to watch you grow
Hello, precious, you are loved more than you will ever know.
July 11, 2011
Note: For our first great grandchild
Arianna Meredith Chudzik
*****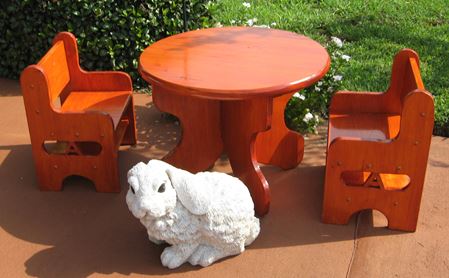 The Tea Party
By
Dennis C. Orvis
Oh, my dear. There's nobody here!
Am I too early for our tea?
My oh my. I don't know why.
Wonder where can the others be?
I'm surprised. Can't believe my eyes.
The Table isn't even set.
No dishes, but I have wishes.
Tomorrow if I don't forget.
August 2011
*****
Sahara and Oscar
By
Dennis C. Orvis
Our granddaughter has two cats
They are smoky gray in color
One of them has white patches
It's Sahara or it's the other
I never remember which is which
There's no doubt they're people cats
Raised like children since very small
All kinds of toys, this and that
They listen to her as if they care
But give a deaf ear to all of us
Chasing wildly, playing follow the leader,
Romping, sliding, climbing, making a fuss
But now something new is added
A little girl, Arianna is her name
Jealousy, so far, had not appeared
And yet, the house is not the same
So Sahara and Oscar, smoky gray, feline wise
For which a rationed pleasant word is found
Might well be dreading those days ahead
When Arianna crawls, walks and then runs around.
2011
*****
The Pixie on the Toadstool
By
Dennis C. Orvis
Can you see the sun shining through the trees
And a sunbeam stretching to a toadstool
On the forest's floor?
Sitting on the toadstool, sparkling in its light
Is a Pixie, ravishing and radiant
Every heart will adore
With such beauty like Tinker Bell
And the joy a rainbow brings
Plus a delicious melting smile
Pretty twinkling eyes and rosy cheeks
A charm you cannot escape
I'm compelled to stay awhile
Now little one, you have my heart
I cannot leave you, now or ever
Your spell holds me true
My love is yours forever
And the music of the forest
Will always be playing just for you.
2011
*****
The Window of our Hearts
By
Dennis C. Orvis
Hello, precious granddaughter, I've used this line before
We have just met you for the very first time
You are six weeks old and how anxious we have been
We're delighted to know you are healthy, just fine
We were worried when you weighed less than four pounds
But now all is well and you're already over six
Some circumstances and a case of shingles
Have kept us away, but we were thrilled with all your pics
What a beautiful, wonderful living doll you are
With pretty dark eyes ever searching all around
Eating, sleeping, stretching; we almost see you grow
And you fascinate us with every little sound
In the days ahead, sweet one, we want you to know
That nothing will ever keep us apart
It is easy to discover how much we love you
Look through the open window of our hearts.
2011
*****
The First Laughter
By
Dennis C. Orvis
Her name Arianna, our first great grandchild
She is fifteen weeks old and more precious every day
In the arms of my wife, a great Nana she already knows
And our joy is unrestrained, words can hardly say.
I was making funny faces and sounds you would not believe
Her little face would smile and grin so very nice
And then we were surprised when a little noise she made
We heard her very first laugh, not only once, but twice
2011
*****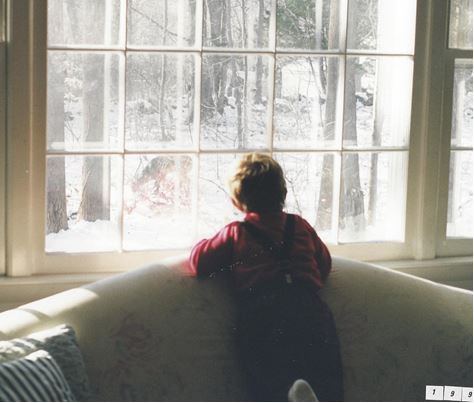 The Window
By
Dennis C. Orvis
He was only three, staring from his perfect vantage, looking out the window
Where the beauty of winter in white, covers like a canvas of newly fallen snow
I wonder what he's thinking while Nature's favorite creature searches for bits of food
Santa, perhaps, or maybe little thoughts about the deer. I'm sure they were good
Interesting he saw a deer,
A wonderful thing to do
But he saw only one, it's true
His grandpa, me, I saw two.
2012
*****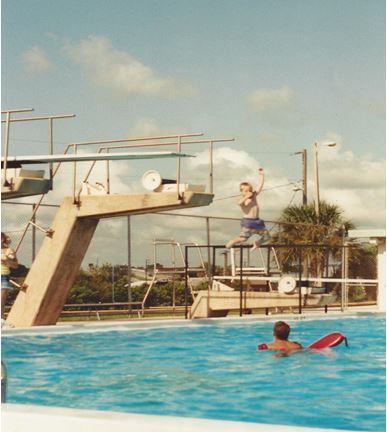 The High Dive
By
Dennis C. Orvis
You were so small, when you were about five and six
Spending a month each summer with us and your Dad
We signed you up for summer swimming lessons
It was important and you were really mad
We were sad; how you cried the first lessons
To your instructor you were a real pill
But we insisted, tears or not
The lessons for you were no thrill
Somehow we got through the first unhappy year
The second summer you did much better
You quit crying and started trying
You learned for us it did matter
Finally the last day of lessons arrived
You could swim real well in a straight forward line
And you were given a reward by your instructor
To jump from the high board, your very first time.
2012
*****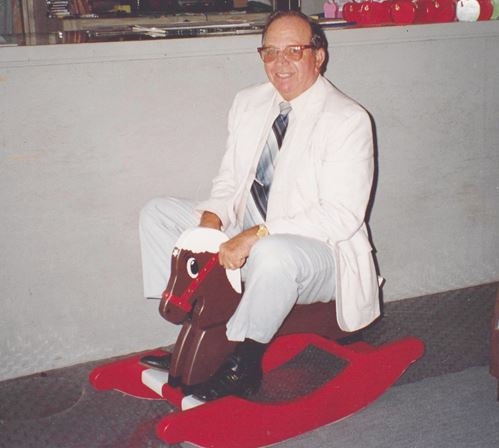 Rocking Horses
By
Dennis C. Orvis
It was 1995 and I was making rocking horses of wood
For our two youngest grandsons, I made one each
Then I made one for a new grandmother, a dear friend
And she said I was wonderful, called me a peach
Then in a moment of inspiration I made two more
For the nursery room kids of our church to enjoy
And surprised our Minister with two unusual gifts
Hoping many children would have a rocking toy
Pictured here I'm test-rocking one of the rocking pair
Checking to see if they are safe for young children to play
That was a long time ago; the horses are no longer there
I don't know where they went, maybe they ran away.
April 2012
Photo taken in 1995
*****
A B C and More
By
Dennis C. Orvis
A is for Arianna and Mr. Alligator, too
B is for Bear, you will find him in a zoo
C is for Cow or cupcakes, we love to eat
D is for Duck, yellow rubber ducks are really neat
E is for Elephant, the biggest of all
F is for Frog, Can you hear his ribbit call?
G is for Giraffe, so pretty and so very tall
H is for Hippo in the water having a ball
I is for Inch Worm, an inch is really small
J is for Jaguar the fastest one of all
K is for Koala, she is soft and cuddly
L is for Lion, the king of beast is he
M is for Marvelous Marvin,
Papa's story we love to read
N is for the Nuthatch bird,
Who likes Papa's seed
O is for Owl, at night he hollers who?
P is for a pretty pink pig, in muddy water, too
Q is for Quail; hear his call for "Bob White"
R is for Rabbit, eating in your garden day and night
S is for Squirrel in the trees where they play
T is for Tiger, he sleeps during the day
U is for Unicorn, a beautiful different horse
V is for Vulture, without friends, of course
W is for Walrus, oh how he can swim
X is for kisses, would you do that again?
Y is for Yak, with a coat of shaggy, yellow
Z is for Zebra, a black and white, well dressed fellow.
So dear Arianna, on your first birthday,
Though you are still quite small
We hope you like this A, B, and C Zoo
Enjoy, enjoy, and enjoy them all.
2012
*****
Learning Your A,B,C's
By
Dennis C. Orvis
You will find the world in your A, B, C's
The moon, the stars, the grass and trees
The sun, too and the light blue sky
And the beautiful birds flying by
Little words like dog, cat and hat
Then bigger words will follow that
The wonders of the world will follow these
Enjoy learning with your A, B, C's
2012
With Love- Nana and Papa
*****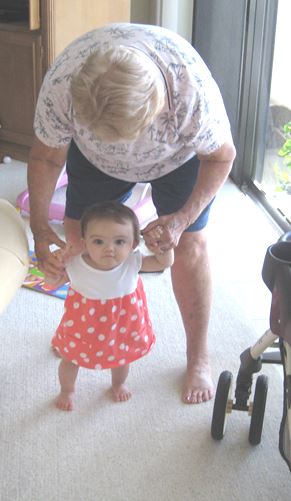 The Little Darling
By
Dennis C. Orvis
She is eleven months old and standing, first words like mama and papa have been claimed
We're betting she'll be walking before her first birthday candle is flamed
The newest darling to our family tree is thrilling to us all
How great it is that such joy and love can be caused by someone so very small.
June 2012
For: Arianna – Our first great granddaughter
*****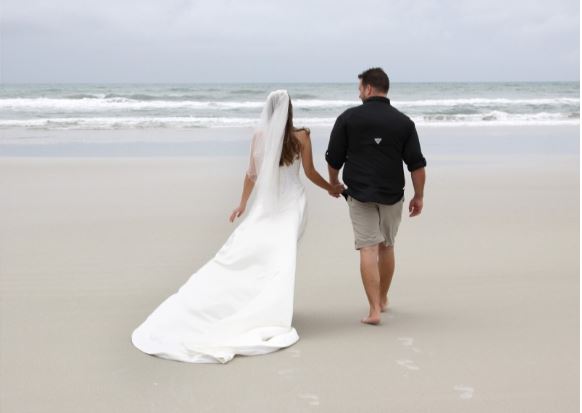 The Wedding on the Beach
By
Dennis C. Orvis
The groom was waiting all alone on the dampened sand
A miracle, perhaps, the rain has stopped. The wedding a go as planned
The bridesmaids in their aqua blue gowns, descended barefooted from the poolside stair
And the wind continued blowing their flowing gowns and waving locks of hair
Right behind, the groom's men came, dressed with yellow shirts, a matching set
Loved ones, family, friends and lady preacher, were hoping not to get wet
All were barefooted and waiting patiently under rain filled skies
Then we saw the beautiful bride and her father with moisture in our eyes
At the top of the wooded stairs in a gown of gorgeous white
Descending with her beaming father, holding her arm with loving delight
Now walking slowly toward the groom, like everyone, barefooted, too
With a matching smile from her mother in a gown of wonderful blue
With winds blowing, sometimes gusting and gray moving clouds overhead
The preacher began the ceremony with two waters poured, caring words were said
Personal vows and rings exchanged and two hearts in love so brave
Sealed with a kiss, cheers filled the mist, while the ocean waved
With hugs and kisses, many pictures were taken
As the clouds were waiting, but threatening as they might
The newly married couple walked together into the shallow tide
For final pictures and words ever personal and so very right
Then the rain started falling and blowing very fast
The barefooted wedding party was running for their shoes all the same
The groom picked up his new wife and carried her to the shore
Engulfed by the moment, love filled the air for a beach wedding in the rain.
June 9, 2012
(With a grandfather's love)
*****
Little Feet
By
Dennis C. Orvis
How thrilled we were when you began to pull up and stand,
With your cute little feet, sometimes with curled toes found their way
It wasn't long before you took your first step, then more
Your cute little feet slowly and carefully became a game of play
Now little darling, those little feet are moving very fast
And Grandma's pretty end-table things were raised to higher retreat
Where inquisitive eyes behind searching hands cannot reach
Avoiding trouble caused by you running with your cute little feet.
2012
*****