CHRISTMAS MORNING
By
Dennis C. Orvis
The house is dark and quiet
Except for the trail of your small night-lights
That guide me safely to the kitchen
Where I find the coffee maker waiting.
I flip the switch and fresh coffee begins
To flow, almost immediately, into the glass container.
How things have changed, I thought,
The World and everything in it is moving too fast.
Everything is instant, right now and people
Don't have time anymore to just
"Savor the moment," any moment.
Progress always has a cost and often it
Is greater than anyone really knows.
I'm sure if we knew in advance,
There are many things we would do differently.
How in the world did we ever get anything done?
Or get through the day without cell phones?
Sometimes it looks like everyone has a small phone
Attached to one ear. Is every call important?
Or do they use it because it is so easy, so right now?
It is still dark and quiet, except for the new coffee
Falling to fill the pot and I'm waiting to see it reach the top.
And I try to clear my mind of all those thoughts
Of today's rush to instant everything.
I pause as my eyes rediscover the small parcel,
Wrapped with Christmas paper, setting on the counter,
Right were I placed it last night before retiring.
Quiet as I try to be, my wonderful wife, now dreaming,
Will awaken when I turn the pages of the morning paper.
I will hear her soft footsteps
Coming into the kitchen behind me
And I will say, " Merry Christmas,
Santa's been here!"
She will protest saying "We decided no presents
Until we arrive at the kids' house later today."
Then as she slowly tears the pretty paper
Her eyes will light up as she quickly sees
A candy box of chocolate covered cherries.
It is one of her favorites and she will say I
Should not have done it, as she always does.
And I will think of those great Christmas mornings
So many years ago, when our children were small.
Those mornings were also dark, but never quiet,
As the three of them woke up so early
And we did too, minutes later!
I hear her now and I stand to greet her
And with a morning kiss she follows the script
Just as I wrote it earlier.
My mind races through the years.
I hold her close and I remember something
I learned so many, many years ago.
It is never the presents and although
The thoughts have a role to play,
The real meaning of Christmas is the
People with whom you share
And hold in your heart.
My heart now, is rejoicing, once again,
As I share another moment to treasure
On this very special Christmas Morning.
Written on
December 25, 2004
Merry Christmas
*****
SIX SMALL STONES
By
Dennis C. Orvis
I'm trying to decide how I feel, the Snowman we've known is no more.
After warmer days and a day long rain, now he's six stones on the deck floor.
His nose was a dark stick about the size of your thumb.
Two little stones were his eyes, making him was such great fun.
Four stones made a wide grin, red earmuffs added style, by golly.
His wine colored scarf made him classy, a postcard he was, though missing green holly.
For over a week we enjoyed him there; then he started shrinking away.
Three foot to two foot, then down to one. Now only six stones I see there today.
Six small stones, a stick, rainwater, he's gone, leaving emptiness there,
We'll miss him for sure until it snows once again and we'll build another one to share.
2005
*****
IT WAS STILL CHRISTMAS
By
Dennis C. Orvis
It could be sad, I suppose to recall my Christmas' through the years
But it was still Christmas, though the early ones had many tears
I was about five when the first Christmas I remember comes to me
It wasn't Merry, I was quarantined with Chicken Pox, you see
Three weeks in the house made Christmas a trying time
Taking fun from our holiday and any presents I might find
The next Christmas it was measles, the one after I had the mumps
It was still Christmas, I know but no joy with cheeky lumps
In those days quarantines were three weeks long
My twenty-one days of Christmas was a different winter song
From our windows I watched my friends playing in the snow
I was warm but I was jealous because outdoors I could not go
For the Christmases that followed as far as I know
I must have been healthy, romping in the Iowa snow
My Christmases passed quickly, the next decade or more
Oh it was still Christmas but no special moments come to fore
Then marriage and a growing family changed everything
Our young children got up early before sleigh bells would ring
And they will tell you our holidays were always great
Oh yes, it was still Christmas, with extra love to celebrate.
2006
*****
MEMORIES AT CHRISTMASTIME
By
Dennis C. Orvis
Oh the memories, so many, so very long ago
And yet I close my eyes and I am there, playing in the snow.
Snow, oh yes, we always had snow at Christmastime.
Memories of Iowa, here are a few that come to mind.
Wow! We called it Catholic Hill, I never knew another name.
It should be in the Sliding Hills' Super Hall of Fame.
Four blocks we could glide over the snow packed road,
As singles or doubles or a four-high load.
By Christmas our river was a frozen layer of ice.
Thick enough for safe skating made it really nice.
Ice hockey was fun and made some muscles sore,
But skating miles up river was better than a score.
And some times freak ice storms would blanket our town,
We put on our ice skates and skate up and down
Main Street, so barren of trucks and cars.
It was a rare show by Nature and we were the stars.
If we were lucky during vacation, fresh snow would come down.
And we shoveled that snow all over our town.
Driveways were hard and worse with strong wind,
Then the snowplows drove by and filled them again.
It was a great time to be a newspaper boy
And happy customers with gifts provided wonderful joy,
Like new billfolds and candy and even dollars, you see,
With "Merry Christmas and Happy New Year" just for me.
But my Grandmother's gift was a talent so great.
She baked pies, cakes, cookies and cobblers, first rate.
I think her baking was the best in the land,
And my special treat was to lick out the pan.
Christmas school vacation was a real special time.
Making great things possible at Christmastime.
Which today are memories I surely can treasure
My Memories at Christmastime are my joy forever.
2006
*****
IN LOVING SPIRIT
By
Dennis C. Orvis
When the sleigh bells jingle across the sparkling snow,
When the carolers sing out with favorite Yule songs we know,
When the gifts are opened around the decorated tree with care,
If you close your eyes, In Loving Spirit, we'll be there.
2007
*****
THE TWILIGHT OF CHRISTMAS
By
Dennis C. Orvis
It's that time we all dread; the twelve days of Christmas are no more.
Christmas music on radio replaced by noise seniors abhor.
Our tree has been undressed, decorations are packed away.
Stored boxes in the attic, 'til next years tree "put up" day.
The carpet has been vacuumed and we've moved the furniture back.
While wrapping paper waits curbside in overflowing sacks.
It's the twilight of Christmas and activity begins to slow.
We've added happy memories to joyous times we know.
When all the Christmas trees were real and scented with forest pine.
Our children were younger then and excited at Christmas time
Oh how early they would wake us, several hours before eight.
When small gifts were meaningful, when nuts and candy were great.
The twilight of Christmas was simple, we stuck the tree in outside snow.
Dressed with popcorn strings and the hungry birds put on a winter show.
Though shorter winter days were dreary and usually so very cold,
Our loving memories are ever warming; for us they'll not grow old.
2007
*****
THE SOUNDS OF CHRISTMAS
By
Dennis C. Orvis
The sound of crunching crusted snow,
when the morning temp is ten below,
The sound of sleigh bells ever delights
as it glides the snow on starry nights,
The sound of carolers joys the air,
as we trim the tree with special care,
The crackling of logs in the fireplace glowing,
through the window winters' scene is snowing
The sound of children at excitements peak,
calling out names on presents they seek,
The sound of pretty paper being torn so quick,
with thoughts long gone of jolly St. Nick.
The sound of our family sharing this memory to be,
In a room filled with love 'round our beautiful tree
Oh, the sounds of Christmas I've mentioned but a few,
With a Merry Christmas to all, especially to you.
2007
*****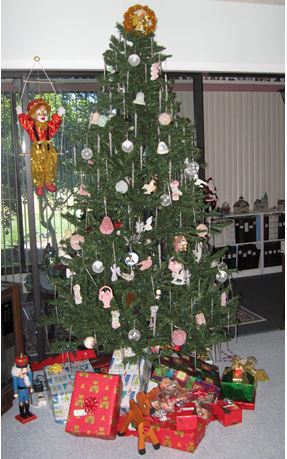 THE SEASON OF HOLIDAYS
By
Dennis C. Orvis
The season of holidays when the memories are so strong,
Of times shared with our loved ones and so many good friends, too.
Takes us back to joyous times, when hearing a Christmas song,
And we can enjoy those happy times, as once again they're new.
The dear faces we know and love come alive in our minds' eye.
As happy smiles and rich laughter contribute their equal parts.
Wonderful memories enrich our lives and as the years go by,
The season of holidays will ever warm our hearts.
2008
*****
Three Days 'Til Christmas
By
Dennis C. Orvis
It's only three days 'til Christmas and worrying I'm beginning to do.
Our Christmas tree is up and standing really tall.
The decorations are beautiful, wrapped in light strings of pretty blue.
But it's bare under the tree, no presents at all.
I have searched every room, every closet, under beds and the basement too.
Even the attic and the garage, everywhere.
There are no hidden presents I can find, I don't know what else to do.
Only three days 'til Christmas, will Santa really care?
Oh how I wonder if he really knows if I am naughty or nice?
I'm so worried, is it too late, for me to be good?
Is there time for me to do better before he's checking his list twice.
I have just three days 'til Christmas, if I only could.
2008
*****
Christmastime 2009
By
Dennis C. Orvis
Well, dear friends, here we are again.
Joined by Christmas Elves, our special guests.
Christmastime is here to close out this year.
It's party time, for all at their very best.
The social hour, one of our finest for sure.
With ample banter and joking filling the air.
Spirits freely flowing, happy faces prevail
As the buffet is prepared with loving care.
The banquet table, dressed with fine decorations,
A pleasant picture to please our eyes.
Nearby many Christmas wrapped gifts are waiting
Which will soon become a nice surprise.
It is another warm Florida Christmastime
Without winters' cold, white snow we all remember clear.
And the fellowship we share together tonight
Adds wonderful memories to a special year.
2009
*****
The Ugly Christmas Trees
By
Dennis C. Orvis
"Dad, let's get this one," She said.
And I saw the ugliest little tree I'd ever seen.
"Nobody will ever choose it," She said.
And she was right, it was so very scrawny, few limbs with needles hardly green.
"It needs a happy Christmas," She said.
I've heard it before, every Christmas season I recall.
Since our daughter could talk and walk
Remembering we've had ugly trees since she was very small.
"Isn't our tree beautiful," She said, Christmas morning.
We smiled at the tree, bent heavy with lights, trying to please.
We smiled, too, at our daughter's face.
Beaming with pride for giving happiness to one more ugly Christmas tree.
2009
*****
Imagine if You Will
By
Dennis C. Orvis
Imagine if you will, the finest Christmas tree
you've ever seen
With lights of rainbow colors, displayed
on scented green.
Imagine if you will, presents, hundreds,
all colors, every size.
For the children of the world, wherever
the Christmas Sun will rise.
Imagine if you will, a world without famine,
without war and without disease, too.
Wouldn't it be wonderful, if by
imagining, we could make it come true?
2009
*****
Ching, Ching, Ching
By
Dennis C. Orvis
Ching, Ching, Ching,
Ching, Ching, Ching,
I hear the bells on Lady ring
As she pulls our sleigh on
Fluffy snow, while Christmas carols we sing.
Ching, Ching, Ching,
Ching, Ching, Ching,
I love how the bells on Lady ring
Adding wondrous sounds through the
Cold night air, music to our winter fling.
Ching, Ching, Ching
Ching, Ching, Ching
Creating a live Christmas scene
Horseshoes across the wooden bridge
Thumping sounds frosty echoes bring
Ching, Ching, Ching,
Ching, Ching, Ching
Lady prances through the muffled white snow
Soft as an Angel wing
Our unforgettable sleigh ride, memories full.
Ching, Ching, Ching
Ching, Ching, Ching
2009
*****
The Perfect Christmas Tree
by
Dennis C. Orvis
I was walking through the woods in four inches of snow or maybe five
Absorbing the beauty, dressed in white, where Nature comes alive
A rabbit in its winter coat races under a pile of brush
And the shrill call of a Bob White Quail whistles the woodsy hush
The white blanket of snow is punctured by animals near
Tracks of rabbits and field mice and the wandering deer
Dark pieces of pine cones fall from squirrels nest up high
A red tailed hawk floats gracefully through the cool blue sky
And then I saw a most beautiful evergreen tree
About fifty yards up the hill so clear to me
Through the snow I climbed the small hill to the tree
Then I stopped short, overwhelmed by the beauty I see
Maybe seven foot tall dressed in a stunning coat of white
A perfect tree for our home on this Christmas night
But wait, Nature planted this tree to be a showcase part
Instead of cutting, I'll only take with me its picture in my heart.
2009
*****
Santa Claus is Coming Today
By
Dennis C. Orvis
It's Saturday morning; today is a special day,
Santa Claus is coming to town
I'm so excited; I've been waiting for weeks
It doesn't matter snow is falling down
At one o'clock he'll be downtown with candy
Riding on the big red fire truck
My plan is to get there really early
Hopefully first in line with any luck.
It's eleven now, I'm too excited to eat
Got to dress real warm, outside its' really cold
Sweater, heavy coat, stocking cap and mittens
I'm ready now; candy from Santa never gets old
I'm on my way, two more blocks; I wish the snow would stop
I see the Main street corner; I hope I'm first in line
And as I make the turn, with my watery eyes I see
So many kids I can't believe, maybe ninety-nine
The wind is strong. It's so cold we're standing close
And the time is moving much too slow
My nose is so cold; the snowflakes are so wet
We're all wondering now if Santa will really show
Wow! I heard it! We all heard it!
The siren with its blaring sound is coming our way
I see the big red fire truck coming into view
There he is! I see him! It's a super magic day!
I am cold no more, the line is moving fast
I'm getting closer to the front. Will he know my name?
Only three to go and then it will be me!
Two, one, holy cow, Santa gave me a candy cane!
2009
*****
THE OLD CHRISTMAS
By
Dennis C. Orvis
As I view the stores and advertising on TV
I am so overwhelmed by everything I see
The many new toys with expensive prices
And confusing electronics to keep me in crisis
I will tell you when I was young so many years ago
Few toys would make a noise, even less would glow
Mixed nuts, fruit, a knitted stocking cap and sweater
And assorted candy always made it better
We all know how different Christmas feels today,
Everyone racing to excess, the only way
The important meaning, like the feeling is missing, too
Gone forever, is the Old Christmas I once knew.
2009
*****
The Christmas Mouse
By
Dennis C. Orvis
Christmas will soon be here and it is time for decorations
We had planned this day to do it with much anticipation
With an early start, the stairway pulled, into the attic I climbed
Oh my, I thought, scanning all the boxes, this job boggles my mind
I started to grab them one at a time and lower it down through the hole
Box after box, plastic and all sizes, I feel like an attic mole
It seemed like hours, but it was half that sure as can be
When I reached the long box containing the artificial tree
The struggle was short, with a smile on my face
"The last one," I said, I have emptied the space
I carefully descended from the pull-down wooden stair
The garage was now full, with boxes everywhere
I looked at my wife who was thinking same as I
They're making decorations too easy to buy
We did the outside lights, standup figures first
And then we had to stop once to quench our thirst
Several hours passed before the task was completed
A quick lunch gave us a rest we both really needed
I picked up the long dusty box, holding the tree
And headed for the living room by the TV
Together we laid out all the green pieces by size
And a wonderful tree assembled before our eyes
The next step is my wife's alone to decorate our tree
She makes it just perfect and so beautiful for all to see
When I picked up the box to remove it to store
Something small fell out and then ran across the floor
My wife screamed, a little brown mouse ran quickly up our tree
"It must be a Christmas mouse," I said to her, "obviously."
2009
*****
Remembering
By
Dennis C. Orvis
I can close my eyes and see the snow
And Christmas lights wherever I might go
I can close my eyes and see the tree
And many pretty presents there will be
I can close my eyes and hear the Church bells ring
Now, close your eyes, come with me, remembering.
2009
*****
A Pony, Three Dogs and a Cat!
By
Dennis C. Orvis
I heard our kids yell in unison, Santa's been here!
I jumped out of bed and hurried to where they were at
When I entered the room our kids were cheering
By the tree, I saw a pony, three dogs and a cat!
I let out a scream with my eyes open the widest
And then standing there all I could do was weep
Until my wife poked me hard in my rib cage
"You are dreaming," she said, "go back to sleep."
2009
*****
The Remote
By
Dennis C. Orvis
Well, I've got to tell you our Christmas was great.
Our gifts were outstanding. The food was first rate.
And we watched the parade, loved every float,
But there's a problems you see, we've lost the remote.
The decorations all boxed, in the attic today
The Christmas paper and trash has been hauled away.
As usual after Christmas, I'm once again broke
But there's a bigger problem, we've lost the remote.
This is really getting serious, I've looked everywhere.
Even in the sides of my overstuffed chair.
I'm very worried now, is this some kind of joke?
The bowl games are coming. Please help me find the remote.
Honey! It's time for the news. Turn on the TV
"Do it yourself," she said, " I'm busy can't you see?"
"How do I turn it on? Which button? I think it is broke!"
"I need a flashlight. Where's the on switch? We must find the remote."
"Help! I'm going crazy! up and down, up and down.
Turn it on…change the channel, adjust the sound.
It's awful. Am I being punished?" I ask.
My remote, gone forever, out with Christmas trash.
2009
*****
A Dozen Days 'til Christmas
By
Dennis C. Orvis
It's a dozen days 'til Christmas; my wife is checking sales in every store
In case she finds a bargain she can't refuse, when the price is right.
Not for this year, you see, she was done with that in July or before.
She always buys for her list early, wraps and hides it out of sight.
She never has any last minute shopping before Christmas Day
You might even be with her in a store, maybe looking with a wish.
She'll ask you what you want for Christmas; maybe it's April or May
She will buy it; take it home for Christmas wrap, checking you off the list.
And then on Christmas morning with the family around the pretty tree
You will open the gift you selected with a happy surprise
Whether or not you remember selecting it on a shopping spree
My smiling wife will know you love it by the sparkle in your eyes.
2010
*****
The Old Wooden Water Tank
By
Dennis C. Orvis
The old water tank was made of wood, banded with iron rods
it was constructed high in the air
The tank itself, probably eighteen feet high
put sixteen foot legs to the test
The old wooden tank leaked in many places, each causing black stains
blended with moss-covered green
It waited for all the trains traveling west to east and the others traveling from east to west.
Just over half of my first twenty years I spent living with my grandparents
They lived in a small northeast Iowa town by the busy railroad tracks
Those days, during the 30's and 40's the railroads were doing quite well
Those were the years of steam locomotives when train firemen needed strong backs
Needed water and coal made the big, black train engines do their job
The trains stopped and crewmen dropped the spout and filled the boiler to the brim
Then the train would slowly pull away towards its' scheduled destination
We always waved to the engineer hoping to see him again.
In the cold Iowa winter the old wooden water tank changed
Then the leaks quickly turned into ice cycles some were six feet long
With postcard beauty the old water tank portrayed a winter holiday season
And filled the boilers that also made the train whistle blow an eerie railroad song
2010
*****
The Country Road
By
Dennis C. Orvis
Have you ever gone on a winter's drive and
turned onto a track-less country road
After six inches of new snow
fell through the cold December night?
And look in awe at the fresh virgin snow
stretching from fence to fence
Like a picture that is calendar class
And for a moment the whole world is right.
2010
*****
Store Windows on Saturday Night
By
Dennis C. Orvis
It's Saturday night and downtown is full,
There isn't an empty parking space in sight
The town's Christmas decorations
hang over the street
From the top of every tall street light
The traffic is bumper to bumper
surely moving like a snail
The sidewalks are so full
Barely moving we try to be polite
Finally we get to the window
and stare with eyes big and wide
So many great things to put on the list
nothing though, to buy tonight
The big mob of people keeps the cold
from reaching my fingers or my nose
It's actually cozy as I fill my eyes
with visions of Christmas' display
The same was true for every store window
I saw as I made my way down the street
Saturday night, looking at Christmas windows
I can hardly wait 'til Christmas Day.
2010
*****
Family Time
By
Dennis C. Orvis
Christmastime, more than any other time of the year
Is when caring families always try to come together
Whether living next door or many miles apart
I think it is the lucky ones who by chance live near
And sharing Christmas is not dependent on the weather
A time when the seasons joy over flows the heart.
It wasn't the presents that thrilled us when we were small
Or the food so delicious to our taste
Or the stories everyone told so well
No, as I look back, it's so different, it was family above all
Grandma's food was great but her hugs always win that race
Old stories ever changing, new stories to tell.
And around the room we join hands,
extending Blessings to those
Without presents,
Without Food,
And faint, if any hope.
But most of all for those
Without family,
So necessary
as only family can
Nourish love into ones heart.
2010
*****
Christmas in Florida
By
Dennis C. Orvis
Well, it's different, the understatement of the day
The nearest snow is in the Georgia Mountains, five hundred miles away.
It was fifty-five and people are saying its' cool
Oh, how difficult it is accepting this is the season of Yule.
Outdoor decorations, plastic icicles hanging on the eaves
Fall foliage, long green pine needles, gray hanging moss, no colored leaves
Yard ornaments of plywood resting on artificial snow
Moving deer of wire with many small white lights are all aglow
The Christmas parade is tonight with decorated golf carts
A few with plywood or cardboard reindeer, some with moving parts
Too many strings of blinking colored lights wrapped round and round like a holly bush
With old skinny Jones in his baggy Santa suit, sagging around his toush
Christmas in Florida it's a different sensation
We drive our home addition to view the decorations
And we can see that some people worked hard because they remember
Christmas "up north" with lights and snow in the cold of December.
2010
*****
The Carolers of Christmas
By
Dennis C. Orvis
It was early evening when I heard some voices singing about
"We Three Kings" I heard the tune filtering through the door
I called my wife and together we opened the door, looking out
"We Three Kings" we heard again but there were eight or more
They finished the song and then sang the Little Drummer Boy.
How beautiful it was as it echoed under the stars so bright
And when it ended my wife said, "Please wait, it was a joy!"
From the kitchen she came with eggnog and cups to warm up their night.
Then a quick rendition of "Jingle Bells" in song and ringing tones
They disappeared into the night, yet the music we could hear
When they stopped along the way to sing at other decorated homes
The Carolers of Christmas sharing melodies of good cheer.
2010
*****
Grandma's Christmas Dinner
By
Dennis C. Orvis
When I think of Christmas of the years gone by
Christmas at Grandmas puts a sparkle in my eye
Honey-baked ham or fried chicken, it was all a blessing
Her turkey would melt in your mouth, smothered by her dressing
Black-eyed peas, string beans with bacon and corn casserole
Little yellow squash, sweet potatoes and okra too
Grandma's cornbread and homemade biscuits, best of all
With thick sausage gravy and a cup of Brunswick stew
Dessert, always, no matter if your belly was full
A small piece of her coconut cake was a special treat
Pecan pie and fresh picked berry cobbler, maybe tomorrow, today it's a no
I remember Grandmas' Christmas dinner was great, but always more than I could eat.
2010
*****
A Winter Walk in the Woods
By
Dennis C. Orvis
Have you ever walked through the woods after a new winters' snow?
When bare trees and evergreens are trimmed in white?
And the footprints of small animals follow where they go
Disappearing into the brush and out of sight.
As I quietly walk with each slow step a small crunch is made
And I watch two squirrels chasing jumping high from tree to tree
The front one slips on the snowy branch but a near fall is saved
This time of year, leaves are gone and squirrel nests are easy to see
Everywhere you look, a picture postcard comes into view
Nature's beauty fills your eyes while the serene peace fills your soul
It's an unforgettable trip; each and every view is new
A wonderful walk in the woods, after a new winter snow.
2010
*****
Chickadees on the Windowsill
By
Dennis C. Orvis
Oh how the wind was howling, the snow was blowing and swirling
Through the window I could see winter dancing freely at will
It would be so cold again today, and I thought of Natures' feathered friends,
then I saw the Chickadees on the windowsill.
There were three, huddling close, standing on the snow in the corner
from winters' might, they're trying to hide
They looked so cold and hungry; I slipped on my jacket and stocking cap
grabbed some birdseed and went outside
I thought they would fly and they did; I quickly scattered some seeds
on the windowsill
They watched me from a nearby bush, one by one they returned
to get their needed fill
Throughout the week while winter stayed frigid, I kept replacing the bird seed
And watching the little birds, a rewarding thrill
The word was apparently getting out. My three birds became five, seven, then eleven Chickadees on the windowsill.
2010
*****
The Kitten and the Christmas Tree
By
Dennis C. Orvis
We have a new pet in our family
I tried to get everyone to wait a while
It's a white kitten, Snowball by name
But the family won, I tried so hard to smile
It is Christmas season and our tree is up
Really decorated in all its' splendor
With keepsake ornaments, strings of pretty lights
And shiny tinsel strands hanging to the floor
To the little ball of fur the tree is a playground
At first Snowball plays with things that hang
A globe falls off and rolls across the carpet
She attacks it, batting it around with a bang
Later, she will disappear into the tree
Where she always gets a needed nap
When her mischief is finally discovered
It will take some time to put things back
Can we keep Snowball out of the Christmas tree?
I'm guessing it's not likely, I fear
Will she learn before this season ends?
Maybe not, but hopefully before Christmas next year.
2010
*****
Heading Home for Christmas
By
Dennis C. Orvis
I was driving home after work through the city streets covered with snow
The snowplows had cleared the road center leaving a snow bank on each side
The two-lanes were now a serpentine path around parked cars
Snow-covered, windows too, front and back today they won't ride
It's Friday. Christmas will be here Monday and there is still much to do.
I turned in my driveway, pushed a button, the garage door rises high
I love that little gadget, especially in the winter
I shut off the engine, as I see the mailman stops, and then goes on by.
I buttoned my coat, headed for the mailbox at the end of my drive
I opened the box to grab the mail and saw a surprise by my feet
There huddled in the deep snow was a small dog shaking like a leaf in the cold
I picked it up and carried it into the house for warmth and something to eat.
It was a boy dog, shaggy black and white, wet and hungry
A spaniel of some kind, a couple years old, not much more
A pretty dog, it had a collar, but no I.D. or nametags
It quickly ate the food I found, and then I gave him a little more
When he finished eating he sat down on his hind legs
His face did look sad, but the tail was friendly waggin'
He made no sound, but his eyes told the story
He cocked his head and then looked where he came in
"I really think he looks like he wants to go out," my wife said
"Obviously," I replied, "now that he's warm, dry and full, I trust."
I opened the door and he took off, running down the snowy road
"I wonder where?" she asked. "I would guess he's heading home for Christmas!"
2010
*****
What a Ride!
By
Dennis C. Orvis
Oh yes, it was so very cold.
As I pulled my sled,
I looked at the snow on the hills' road,
Packed and glazed like ice to glide
But I was dressed really warm,
I picked up my sled,
Running, I belly flop on it, here I go,
Wow! Wow! What a ride!
2010
*****
A Miracle
By
Dennis C. Orvis
It is Christmas Eve and the weather could not be worse.
The cold wintry sky isn't blue; it's solid white with falling snow
The wind is blowing hard, with no visibility
I'm so worried. What will happen if the reindeer cannot go?
"Can anything help Santa?" "He'll be fine," my mother said.
"But mom, I can't see out the window. How can his reindeer fly?"
"Has he ever failed us before? Never! Now go to bed!"
It wasn't easy to fall asleep. I tried hard not to cry.
It's light outside. It's morning! I ran to the window.
The snow has stopped and everything is white! I raced downstairs to the tree
Holy Cow! Santa made it, I don't know how.
A miracle! Look at all the presents and wow! A new bike just for me!
2010
*****
In the Streetlights' Glow
By
Dennis C. Orvis
As the soft damp, snowflakes drift through the streetlights' glow
And gently add to the white ground cover below
The calm of winters' quiet side is purely heart-warming
Sadly, this picture will be gone with the morning.
2010
*****
The Greatest Gift
By
Dennis C. Orvis
If I could give you the greatest gift, it would be the gift of love
A package so large or small, as you might want it to be
Wrapped with the most beautiful paper you have ever seen
Tied with a magnificent ribbon, placed under your Christmas tree
Filled with tender times and precious moments we would forever share
And loving memories plus our dreams we hope someday will come true
A Christmas gift, one of a kind, that nobody else has ever known
A treasure only a heart can hold, the gift of love, my greatest gift for you
2010
*****
The Missing Cat
By
Dennis C. Orvis
The new snow was perfect for building a snowman,
So my sister and I decided to do just that,
We were surprised when we were done, our snowman had a tail
And then I heard our mother call, "Junior! Where's the cat?"
2010
*****
Meeting Santa
By
Dennis C. Orvis
The line was long and it moved too slowly
When my turn came, I felt a little weird
He looked real big in his suit of red
And a matching hat, a full-white beard
I moved forward and tried to smile
He called my name with a wink
Asking what I wanted for Christmas
My smile vanished, I couldn't think
I don't remember what he said
I nodded my head, in a fog
He handed me a candy cane
I asked him for a puppy dog
I don't know why I said a puppy
My mother won't let me have one
I wish I would have said a bike
I thought seeing Santa would be fun
2010
*****
Where's Pumpkin?
By
Dennis C. Orvis
Christmas morning I jumped out of bed and ran to the den
And under our Christmas tree I could hardly believe my eyes
Presents of all sizes, wrapped so beautifully
I called to my parents, "Come on, and hurry Mom and Dad, Come see the surprise.
"Santa's' been here! Look at all the pretty gifts!
It was a great Christmas morning, wonderful gifts and all that
I called my pet, Pumpkin, "Come on, there are gifts here for you!"
She didn't answer. I've looked everywhere. I don't know where she's at.
Yesterday I saw her; she was in the den playing with the tree
Christmas joy ended quickly, we can't find Pumpkin, our family cat.
Dear Santa: we're wondering, did you see Pumpkin when you were here?
We're so worried, Santa, maybe she crawled into your sack!
2010
*****
Christmastime is Nearer
By
Dennis C. Orvis
Well, my twelve days of Christmas has run one through twelve,
I hope some old memories found their way back to you
The kind we carry in our hearts and sometimes forget they are there
But always bring us pleasure like when they were new.
When happy times we loved return once again
Causing a smile, ever so slight, maybe a chuckle or two
Santa's been loading his big red sleigh soon to cheer the world
Christmastime is nearer and I wish the merriest for you.
2010
*****
Christmas Eve-My Longest Night
By
Dennis C. Orvis
Our Christmas tree is beautiful especially when it's lighted
My grandparent's presents arrived today, because they don't live near
It is Christmas Eve and I am really excited
Before tomorrow morning Santa Claus will be here
We watched an early Christmas show on TV
Then Mother said, "Time for you to go to bed."
"But I'm not tired Mother, don't you see."
"Doesn't matter, remember what Santa said,"
I kissed Mom and Dad with an embellished sigh
And meandered a walk to my room upstairs
Looking out my window at the star-filled sky
I remembered to put Santa in my Prayers
I tried to sleep, I tried everything
But I kept thinking of morning's delight
When Santa brings such wonderful things
Christmas Eve is always my longest night
2010
*****
The Precious Gift
By
Dennis C. Orvis
Christmas is only days away and young Tommy
Doesn't have a present for his mother
He cannot remember the last time he got an allowance
It's always something or other
Since Dad's unit was called up for Afghanistan the second time
Things have really been rough
Normally it snows in December, but he made no money
There hasn't been snow enough
While Tommy's in the alley behind the stores
For anything of value in the dumpsters
He saw a parking lot and a lady with
Christmas wrapped packages walking toward her car
She put the largest package on the roof
Unlocked her car, putting the other gifts inside
Forgetting the box on the roof, she started her car
Then backed out and began her ride
He called and waved, but she did not hear or see him
She turned, driving to the corner stop sign
Tommy ran as fast as he could, made it to her car
And grabbed the wrapped box; just in time
He knocked, holding the wrapped box; lowering her window
She heard, "You didn't hear me holler."
"I can't believe I did that," she said,
"Thank you for being honest, young man, here's a dollar."
Tommy was thrilled, holding his dollar tight,
He ran to the dime store, his mother on his mind
He found the Christmas counters, slowly walked,
Looking hard and yet, not knowing what he might find
And then he saw it, a beautiful round
Christmas tree ornament, blue as a star lit sky
"I only have one dollar," he said, adding
"Do you have a box?" with a twinkle in his eye
Tommy ran all the way home, he found his paint set
He knew exactly what he wanted to do.
Later when the paint was dry he boxed the ornament
And wrapped it in paper, a beautiful blue
He was so excited Christmas Eve. He slept little
And Christmas morning came early anew
She opened the small box and with a tear she read,
The white words he painted, "I'll always love you."
2011
*****
The Christmas Hayride
By
Dennis C. Orvis
Christmas is coming and the ground is covered with snow
Time for our annual hayride and I'm anxious to go
I see the sign; it says, "Next ride at seven p.m.
Buy your ticket early we don't take reservations"
It's getting darker; the hayride will load in an hour.
I see Hank bringing out his one horsepower
"Hey Hank! Where's Black Lightning?
He's pulled the hayride many years."
"Lightning's a little old now.
Big Red is ready, look at his ears."
Hank backed Big Red to the hayrack and strapped him in
He tapped the reins and Big Red responded moving
where the ride begins
The ticket holders, twenty in all, loaded on the hay
The hayride sleigh strained and was soon on its quiet way
Before we topped the first hill on our pleasant trip tonight
Looking back, the barn was fading out of our sight
Then I thought I saw something vaguely
framed against the snow
"Hey! It's Black Lightning!" He heard the hayrack
and felt an urge once more to go.
2011
*****
Our Christmas Cactus
By
Dennis C. Orvis
Actually, it's my wife's plant and she loves it.
I think it was a sprig from one her mother had
It sits around all year looking like…well…a cactus
Except for a few weeks when it blooms small flowers of red
Now I will admit it is pretty when it blooms
But I am confused over its name
Because it blossoms red only once a year
July, August or November just the same
So I'm looking at it today
I don't know when it will be in bloom
Is the Christmas music working? Don't think so
I don't think it will be any time real soon.
2011
*****
Berry, Berry Good
By
Dennis C. Orvis
Over a half century before Mrs. Smith's pies became famous
My grandmother was tormenting taste buds with cobblers supreme
Following the fruit of the seasons, first apples, then peaches
Rhubarb and strawberries, apricots, mouth-watering lemon cream
My memories are so clear, the fragrances seem to fill my mind
My taste buds are salivating like I have always known they could
I've also known how lucky I was to be part of her magical life
And just like her red and black raspberries it was berry-berry good.
2011
*****
The River of Ice
By
Dennis C. Orvis
I grew up in northern Iowa where the
Cedar River runs through the town
The memories I have are many and priceless,
a better place could not be found
In the summertime we were busy fishing,
boating, swimming and hiking
We had so many things to do and every one
of them was to our liking
Winters though were tough. Iowa winters were
rough; below zero was often the degree
Snow was common and sometimes deep
and white as far as you could see
The river would freeze where the current was weak
and still, shallow water froze real nice
We bundled up warm with sharpened ice skates
and met on our river of ice.
We tried hockey some, but it wasn't much fun,
always looking for the puck in the snow
But we enjoyed much more skating up river,
four or five miles we could go
When the wind was calm, with little effort
skating was exciting and carefree
The hours would pass on ice smooth as glass;
our river of ice; a wonderful place to be.
2011
*****
The Hand of Mother Nature
By
Dennis C. Orvis
We have an evergreen tree in our backyard
standing about six feet tall
We usually put Christmas lights on it,
but this year I am running pretty late
Then it snowed last night and how pretty
it looks now in its fresh suit of white
But it is too cold outside to string any lights.
It looks like I'll just have to wait.
Later, I saw a Blue jay land in the tree,
probably looking for a pinecone to pull
It suddenly became a beautiful picture
and then a new idea came to me
I went to the kitchen, found the old popcorn popper;
I filled it and put it on heat
When it popped I carried it to the backyard
and scattered the popcorn all over the tree
I returned to the house and then I sat by the window
and watched the show begin
I couldn't believe the many birds coming
to the tree from all directions
Red Cardinals and their mates, more Jays
dressed in blue and gray doves walking below
The Hand of Mother Nature is at work,
Decorating our tree beauty with natural perfections.
2011
*****
Little Rudy
By
Dennis C. Orvis
Everyone knows about Rudolph, The Red-nosed Reindeer
And how he helped Santa Christmas night
But did you know he had a son
Who wanted to be like his dad and fly out of sight
He is little Rudy; he can run fast and jump high
Faster and higher than any of the other reindeers, it is said
Little Rudy tries hard, but cannot fly, no matter what he does
And he always blames his nose because it is black, not red.
One morning on his birthday
His mother said, "Look at you, go show your dad."
"Show him what?" he said while looking
Everywhere and feeling so very sad
He saw him and called, "Hey dad, I'm supposed to show you,
Don't know what, that's all she said."
"Come here son, look in the window pane."
What he saw was a beautiful nose of red!
Little Rudy took off running
He was jumping over stumps and a fence so high
Surprise! Surprise! He kept going!
"Lookie me! Lookie me! Now I can really fly!
2011
*****
A Doggone Christmas
By
Dennis C. Orvis
It is two days until Christmas morning and we had a heavy snowfall last night
Paris, our family pet is a poodle and he's whining by the kitchen door
He needs to go outside without delay; I opened the door, he's gone like a shot
He ran across the snow to the snowdrift, leaping the stockade fence like he's done before
I rushed to get the car to see if I could head him off before he gets too far
He was nowhere to be seen but it wouldn't be easy, since he is so white
I drove the neighborhood quite a while but gave up without any success
The day and night passed, Parfis did not return, the family had a sad, restless night
Our ordeal continued, Paris is still missing. I phoned the radio lost and found
I went for a drive again after lunch with the same bad luck once again
Paris has escaped more than a few times before but he has never stayed away like this
We're worried every time when he runs loose because a car may run over him
Our Christmas Eve was extremely sad with Paris missing it's the worst we remember
The evening was long; it was so quiet not many words were said
Santa came last night, but nobody's caring what he might have brought
With Paris still lost, family joy is gone, too. I know that some tears have been shed
Our unhappy family is reluctantly moving to sit around the Christmas tree
And then we heard a scratching noise coming from the kitchen door
Racing, we pulled it open and a sad red-eyed, dirty Paris is sitting there
He got a bath first, then Christmas happened and joy returned to our house once more.
2011
*****
Hard Candy, Mixed Nuts in the Shell and Pretty Fruit
By
Dennis C. Orvis
If I had my druthers I'm sure changes in my early Christmases would be made.
I sit here trying to remember my early Christmases, but there isn't much I can feel.
I must say there aren't many special things I can recall, certainly nothing stands out
Things were tough for our family in the 1930's, Christmas was never a big deal
I believe my parents did the best they could do, their jobs paid little and money was scarce
If there were toys, even clothes, I don't remember any, especially never a new snowsuit
How I do remember those cold Iowa winters, mumps, measles and chicken pox too
But our Christmas trees always produced hard candy, mixed nuts in the shell and pretty fruit.
2011
*****
Wiggles
By
Dennis C. Orvis
I heard my brother holler, "Santa's been here!"
And I jumped out of bed and raced to the den
I see our Christmas tree and presents everywhere
I heard a whimper from the fireplace, and then I heard it again
"Oh, my gosh!" I said with my eyes opened wide
I see a puppy in my stocking looking right at me
I hurried past the tree pushing presents aside
When I got near the puppy was squirming to get free
I lifted the little brown and white wiggly thing
And pulled it to my chest with joy and giggles
As it squirmed it started licking my face
I gave it a name. I'm going to call it Wiggles
2011
*****
When Christmas Changed
By
Dennis C. Orvis
The year was 1940 and I would have been about eleven years old.
We lived in a rental house on a street called Sycamore
In East Waterloo Iowa and I must admit I remember it well
It was about one block from the Piggly Wiggly grocery store
On the other side we were about one hundred yards
From the property line of Rath Packing Company
One time famous nationwide for meats, bacon and wieners
Where we lived it was famous for odor when the wind blew toward me
I remember Grandma Orvis moved in with us one day
Since our house was small the living room sofa became my bed
I remember Christmas Eve, Santa made some noise and I pretended to sleep
Christmas changed that night, I learned his nose really isn't red
No, I didn't tell anyone, I was afraid the gifts would stop
But still Christmas was never the same, special feelings faded away
I made sure though, my little sister never found out from me
And I shared her joy on Christmas morning, keeping her Christmas a special day.
2011
*****
Decorating for Christmas
By
Dennis C. Orvis
We were with the kids a week ago,
And I told them we could use some help
Getting our Christmas decorations
From the attic over the garage
They surprised us arriving early
Evening a few days ago
And two hours later, our car's in the
Driveway, where it was is a Christmas mirage
We haven't been home for Christmas
In a half-dozen years or so
The garage is full of boxes, but
We're not sure what's in 'em
There are five trees for sure,
The ornaments are somewhere
We've already made two trips to the thrift shop,
We won't see those things again.
Well, it's not even Thanksgiving yet
And my wife is on a roll
The trees are assembled,
The clown tree is already done.
And we're leaving in two days
For northern Georgia
It's my wife's' hometown visit,
With family, a November tradition
We will be back in a week and
We sure know what will be waiting
Dozens and dozens of boxes with
Many Christmas unknowns
I would say I can't wait, but
She'll never believe me
But I know when she is done
We'll have, once more, a beautiful Christmas home.
2011
*****
An Old Fashioned Christmas Fantasy
By
Dennis C. Orvis
I saw Rudolph fly over like a shooting star in the sky
And my thoughts returned to days long gone by
Yes, we still love Christmas, but it's not the same
My old fashioned Christmas will never return again.
*
I heard Frosty, the snowman sing a delightful tune
But sounds by carolers are better under a bright evening moon
Yes, we still love Christmas, but it's not the same
My old fashioned Christmas will never return again
*
Kids want electronics costing more than a hundred
But we were excited to see a Radio Wagon of red
Yes, we still love Christmas, but it's not the same
My old fashioned Christmas will never return again.
*
Christmas morning we'll sit around our artificial tree
Christmas presents made in Countries we'll never see
Yes, we still love Christmas, but it's not the same
My old fashioned Christmas will never return again.
*
I'm not complaining, you see, it matters not
Progress has a price and sometimes it's a lot
Yes, I still love Christmas and I won't complain
But my old fashioned Christmas will never return again.
2011
*****
The Christmas Tree is Gone!
By
Dennis C. Orvis
There is a quiet feeling in our house tonight
An emptiness that can bring sadness to ones' heart
Our Christmas tree is gone, other decorations are out of sight
Carefully placed in marked boxes for storage in the attic to start.
The beautiful tree was decorated after Thanksgiving
to be enjoyed 'til Christmas Day
And how our tree greeted us with such delight,
Filling the room with joy the merriest way.
And now we search the room in thought and memory
Comparing today and Christmas joy with silence we cannot see
And wonder how this Christmas cheer
Can be retained every day of the year.
2011
*****
The New Light Poles
By
Dennis C. Orvis
I remember many years ago when my hometown replaced
All the old, beautiful light poles on Main Street
With very tall modern aluminum poles and fixtures
That created twice as much light at night.
They looked very nice day and night and many towns people
Were saying the new poles looked really neat
Everything went well through summer and into the fall.
It was being said the decision was right
By mid-November the city was hanging Christmas Decorations
Across the major street, new pole to new pole.
The day after Thanksgiving the Christmas lights were turned on,
They were wonderful, hard to beat.
The first flakes of winter came and the lights
Were gorgeous reflecting against the new snow
But it was wet and heavy, the next morning the new poles
Were bent over, the decorations were lying in the street.
2012
*****
A Mystery Present
By
Dennis C. Orvis
I have told you before my wife does her Christmas shopping
Early; it could be after the Christmas sales
Then she will squirrel presents away somewhere,
In the house or the garage in places I've never been near.
When Christmas comes the following year and she says
Merry Christmas, handing a pretty package to me
I sometimes wonder if the present was bought for this Christmas
Or lost and found from a previous year.
2012
*****
Firewood
By
Dennis C. Orvis
As the Christmas season is getting near, winter chills the air
The daily sun gives minor warmth while every day is losing minutes
Days growing shorter, evening chills often to the bone
Winter arrives before Christmas and like it or not, we are surely in it
I pulled the snow-covered canvas off the stored firewood pile
We cut months ago in fireplace length, double row, stacked shoulder high
I carried several armloads into the house to the fireplace
And I carefully filled the firewood rack located near by
Then I placed several very cold logs on the fireplace grate
Adding a few wax-filled pinecones that I use to help the fire start
Soon the logs are blazing, sizzling and popping as they thaw
And burning firewood sends heat into our room, bringing smiles to our heart.
2012
*****
Where's the Snow?
By
Dennis C. Orvis
If you live in the cold country up north, there is one thing for sure you know.
When winter comes it is always dressed in white, the outdoors all covered with snow
The first snow we see is pretty as the winter season proclaims its conquest
Small snowflakes gently falling, slightly blowing, are usually picked as best
Wet snow makes great snowballs, perfect for throwing and chasing the girls away
Perfect too for building a snowman, eyes of coal, carrot nose and a scarf of gray
Dry snow is good for sledding and easy to shovel and making some cash
And when you see big flakes falling you know it won't fall long, big flakes never last
But today there is a problem you see, Winter has been cold but quite mild
The usual activities are missing, it's affecting every child
Like prisoners, they are in the house. Bored as bored can be,
And there is no place for them to go
Winter is here, Christmas is coming.
And looking out the window, they are asking, where's the snow?
2012
*****
Home for Christmas
By
Dennis C. Orvis
Home for Christmas, what a lovely thought
As the memories it inspires are racing by
When we were small how safe we were
A fantasyland, playground and comfort if you should cry
Summer vacations and holidays, when our family
Did great things together
A place where fear was not a factor
And we were sheltered from all kinds of weather
And wonderful Christmastime, the time we loved best of all
Each and every one was special, always a family ball
Although those many Christmas' past
Can ne'er be repeated again
I will try to grasp what thoughts I might
Recall and love all that I can
The many memories of the family I hold tight
Though the loving faces are gone
The old home today is but a house
But the memories I cherish will forever live on.
2012
*****
Christmas School Vacation
By
Dennis C. Orvis
How anxious we were when Christmas vacation was about to begin
School activities were ending in some classes too slow
On the last day of school, some cheers could be heard
The pounding of shoes down the stairs, leaving the building through every door
In those days there were few student cars and fewer school buses
Nearly everyone either walked to school or had a parent ride
And we were free for ten or fourteen days, to forget the books
To enjoy activities we might discover on the outside
Its wintertime and very cold. Some will skate the frozen river
Some will wish for new snow to shovel and earn money for their labor
Some will have projects or chores waiting to be resolved
Some will be helping relatives or possibly helping neighbors
A few of us will spend some time as small game hunters
Chasing pheasants, turkeys, rabbits and fox while trudging through the snow
Dressed for the cold, a pain ignored from a hobby few pursue
The Christmas vacation from school will rapidly go.
2012
*****
The Christmas Shoes
By
Dennis C. Orvis
Years ago I was a member of the Jaycee organization in a small Iowa town
We had a pretty active group of maybe forty members
We worked hard on numerous community projects,
But there was one I will always remember
Perhaps I should say two projects, the first raised money to spend
Using a bank of telephones donated by a large local company
We called every telephone in the town directory,
And sold light bulbs, over the phone, delivered same night by a member Jaycee
The second project was called the Christmas Shopping Tour.
From various sources we obtained names of kids that needed a better Christmas
Then each Jaycee was given a certain amount of money and a kid to assist
Our role was to help them buy presents and we did, but it also benefited us
I remember one little boy one Christmas,
He first bought a present for his younger sister
He never had money to spend before; he was taking his time
And he was very careful to choose
Then just before we finished he saw a new pair of shoes,
This was something he never had
He asked me if he had enough money left. He didn't, but I said yes.
And for this Christmas he had a new pair of shoes.
2012
*****
The Little Angel's Touch
By
Dennis C. Orvis
The little angel high on the ragged Christmas tree
Looked around the room with a tear in her eye
She lowered her head, her lips moved a prayer
Is this the house she had hoped to fly?
The room was dingy bare, the furniture was badly worn
The carpet was ragged, thread bare and the design was faded bad
She saw three children, all young, with faces of permanent frown
The angel's prayer asked for little, only a change away from sad
A small bell hanging on a skinny limb, nearly needle free
Gave a tiny ring that was so very difficult to hear
And yet the angel heard, wiped her tear and smiled
Things began to happen, decorations began to appear
Then a string of lights was suddenly wrapping itself around the tree
With brilliant lights of many colors turned on and blinked with happiness
Tinsel fell like snowflakes and changed the shabby tree to a thing of beauty
Lovely ornaments appeared like morning flowers as if the tree was blessed
The three youngsters watched this Christmas show in silence and in awe
Their trance was suddenly broken by a knocking on their front door
A call from their mother, ill in her bedroom, asked the oldest to see who it is
As he opened the door, Salvation Army people put four boxes on the floor
"Merry Christmas," they said together as they departed from the house.
Like Christmas morning the youngsters eagerly, but carefully emptied every carton
Wrapped presents were put around the tree; the food was separated to the pantry
There were many, many clothes which they modeled to show their delighted Mom
The little angel is still high, but now in a gorgeous Christmas tree
Her tears are gone and a happy smile gives her face a heavenly blush
Her eyes cannot hide her pleasure, the little bell rings of good news
And the three youngsters standing by the Christmas tree are filled
with a Christmas rush.
2012
*****
The Fort and My Sister
By
Dennis C. Orvis
The snow fell all day yesterday and everything is glistening white
Today the morning sunshine is slightly warm, helping the snow roll up tight
It's perfect for building a snowman or a fort and snowballs we can throw
How we love our wintertime and the games we play with nature's snow
My buddy and me we built a fort; we built it two levels high
Now we hide behind the wall and wait for my big sister to come by
Here she comes, we throw and she ducks, running to get by she races
Charging our fort, pushes us down and with wet snow washes our faces
2012
*****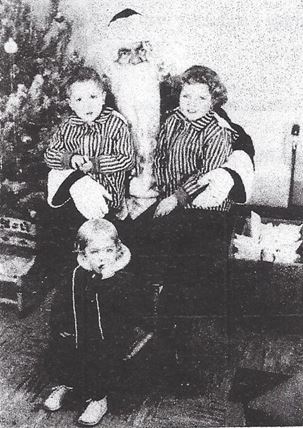 No Way!
By
Dennis C. Orvis
My wife and I saw the ad in the local paper
It said Santa Claus will be here Saturday
Polaroid pictures will be available, small cost
And candy canes for every child, if Ok
Sounds good, we should plan to be there if we can
Starts at ten, the empty bank building on Main Street
It's not heated, will dress our kids extra warm
I hope they will be good, the picture should be neat
We arrived with our three angels, girl six, boy four, second girl almost three
Dressed in matching snowsuits, perfect for a winter day
I planned our boy down front, the girls on Santa's lap
The youngest refused, few words, but what I heard was "No Way!"
2012
*****
Icicles from the Roof
By
Dennis C. Orvis
Ah wintertime! The days are short, the air is very cold and one's breath is
Hanging in the air like frozen mist
Looking out the window, I see the dark sky, spotted with distant stars
And vanilla moon reflecting on the snow
The outside of the glass is painted like canvas with artistic designs Jack
Frost touched and kissed
The long icicles hanging off the roof edge are surrounded by Christmas
Lights giving the ice a beautiful multi-colored glow.
2012
*****
The Long Christmas Ride
By
Dennis C. Orvis
My wife's folks lived a thousand miles from us and we could not travel there often
It was important to me that we try to visit them every year for Christmas
It wasn't easy in those early years; we had a shortage of money and time
Driving straight through was the only way we could make the trip. It was routine for us.
The only way we could do it, both of us drove, to share the task, so difficult at times
We could afford the gas but there was no time or money for a motel
By our second anniversary we had a new baby daughter
By our sixth anniversary we added a boy and also our second baby girl
We tried very hard although we could not make the Christmas trip every year
One year my new job stopped me, so a long train ride for them was the only way to go
Several times her folks came to visit us, when our new baby was too young to travel
The weather was ignored; we made the trip in rain, storms and yes, even snow.
Later after our kids had grown and had families of their own
As long as my in-laws were living it was our present to be with them
My wife and I continued the long Christmas ride
Now, with memories, so many years later it would be wonderful to do it once again.
2012
*****
Where's Cuddles?
By
Dennis C. Orvis
My dear family was gone for the day
Because I needed some time to do a task
Those Christmas gifts I've been buying for months
Are waiting and I must wrap them all very fast
I went to the closet for rolls of Christmas paper
Then I searched under beds, back of drawers and the attic too
For all those new things I bought and have been hiding away
I grabbed a box of labels and the scotch tape spool
Several hours passed by as I carefully wrapped with
Pretty paper, ribbons and stickers and I finished with that
It was difficult but I hid all the presents and cleaned up my mess
Then I panicked, where's Cuddles, our family cat?
2012
*****
Warm Christmas Greetings
By
Dennis C. Orvis
Santa smiled at the little child
Sitting on his knee
But the smile slowly changed
When the little child began to pee
The child's mother standing near
Was grinning ear to ear
It could have been worse she thought
It could have been on me.
2012
*****
Our Christmas Tree
By
Dennis C. Orvis
Few words can hardly describe our Christmas tree, decorated with love
Colored lights, tinsel, sugar plum ornaments, red apples and doves of white
Special ornaments our kids made when they were so very young
Our Christmas tree, so beautiful, where presents wait, brings great
memories to us tonight.
2012
*****
A Letter to Santa
By
Dennis C. Orvis
A letter to Santa written on stationery,
yellowed with age
The youthful handwriting was carefully
printed on a single page
The penciled words told a story
by a writer so humble and brave
Asking for presents for her sister and brother
she might otherwise crave
Dear Santa, please bring my brother a bicycle
to help his paper route
And please bring my little sister a doll
she is now doing without
And please bring my Mother the stove she needs,
A used one would be ok
And help my Dad find a job if you can
and take his sadness away
Santa if you can bring these things
you don't need to bring anything for me
To see happiness return would be so wonderful
for our family
It would be the greatest Christmas our family
has known ever
I believe in you Santa and thank you,
I will forget you never.
2013
*****
Some Assembly Required
By
Dennis C. Orvis
It's Christmas Eve and our three kids are in bed
One boy, two girls, with sugar plums in their heads
It's nearly ten, "You've got work to do," I heard my wife say
"I know, we have two baby beds hidden away
I opened the first box, some assembly required
The instructions unfolded nearly covered the floor
Five languages I see, I am not inspired
I laid out the pieces, maybe fifty or more
I am sweating like crazy as the clock strikes one
The clock strikes one-thirty, somehow the first bed is done
The second should have been easy, but the clock strikes three
I clean up my mess and put the two beds near the tree
I glanced at my watch as I crawled into bed
I couldn't admire my work, I was simply too tired
I know our three kids will be up before five
I'll never again buy things some assembly required.
2013
*****
The Dark House
By
Dennis C. Orvis
Our street is six blocks long and during the Christmas Season
It is special
With about ten or twelve houses for every block and Christmas
Decorations worthy of pride
And the people of this area appreciate our effort with
Evening parades
Slow moving cars are constant rewards giving us
A real good feeling inside
But this year in the third block there is a sad problem
Quite obvious to us all
A property is dark. It belongs to the heirs
of widower Mister Faust
For many years he led the charge for us to decorate
Every house on the street
I'm sure he is here in spirit but I would bet
He is sad over his dark house
2013
*****
Candles in the Windows
By
Dennis C. Orvis
When I was younger we were all scared of the big
Three-story house on the corner
The unpainted fence was missing some boards and
Leaning like it was ready to fall
The grass was never mowed until it was much too tall
And the walks never shoveled in the winter
On Halloween we never went near that
Frightening place at all.
And now the Christmas season is here and I am
Walking past the three-story scary house at night
I know there is an old couple living there,
I wonder if they have a Christmas tree
I wonder it they have family
Or do they celebrate Christmas all alone
I stop. I can't believe it. There is
A lighted candle in every window that I see
Does it mean Merry Christmas?
I think tomorrow I better give the old house a call
2013
*****
A Christmas Fantasy
By
Dennis C. Orvis
The phone rang. It was my neighbor.
His voice said, "They are on the loose!"
"What's loose?" I asked. "Your silly elves!"
"On my Christmas train, one in the engine, two in the caboose!"
"One riding Rudolph, Two in the Penguin balloon.
Another is chasing the neighbor's cat"
"Two are climbing the light strings on my house.
And one doesn't know where he is at!"
"Are you sure they are mine?" I asked.
"Did you take your medicine today?"
"I'm serious can't you tell?
Come on over and bring a big net!"
"OK OK, as soon as I find my whistle
I'm on my way."
I blew my magic whistle then I caught
And bagged them with regret.
I finally got them all collected
And took them home with me.
I wouldn't let them out of the bag
Until they promised to stay home
I lined them all up on the top of the
Concrete garden wall
"Now listen! The next time you leave this property
You will become a garden GNOME!"
2013
*****
The Rural Christmas Parade
By
Dennis C. Orvis
Today is Saturday and the Christmas parade is today
The high school band was first stepping off at one pm
It was followed by the Mayor and a few more topless cars
Then a John Deere tractor pulls the queen and her court again
The high school cheerleaders and the basketball champs ride by
Next young Future Farmers ride five more noisy tractors with a wave
Three floats follow sponsored by the biggest retail stores in town
The police car with the Chief inside and siren is a rave
Then another siren on the big red fire truck and a ringing bell
And on top I see Santa Claus; he is waving right at me!
When the parade ends Santa goes to the town parking lot
I've got to run there and get in line for his candy that's free
2013
*****
The Decorated Yard
By
Dennis C. Orvis
My neighbor is obsessed by Christmas decorations,
Nearly every foot of his yard is covered
And every year he is adding more.
He has all competition beat
At night he flips a switch and lights up the neighborhood.
The traffic never stops when his display is lit
Me? Only one lighted tree and a sign-
"See my other display across the street!"
2013
*****
Church and State
By
Dennis C. Orvis
As our Country seems to continue its course of folly
I for one, believe the fault should be shared
By those who took Prayer out of our schools
Where the Pledge of Allegiance is no longer cared
Yet, Congress starts every session with a Prayer
The oath of office and court witness starts with the Bible
Federal Buildings and money display In God We Trust
And the Ten Commandments
But the same in schools or local government buildings
Like Nativity scenes is libel
When did Religious Freedom stop for Christmas in America?
When did common sense leave the USA?
Why in our democracy does the minority rule?
It will take years to repair the damage. Let's start today!
2013
*****
Christmas Cards
By
Dennis C. Orvis
We love to receive Christmas cards especially from old friends
in places where we used to live
And we love to hear from friends who themselves have moved away
We eagerly open each Christmas card, admiring first the beauty it presents
Then we read the printed message, displayed in its beautiful, thoughtful way
We do enjoy those Christmas pictures, with children and grandchildren so special
Letting us share our friend's joy over how much they have grown
And perhaps, more than most, we do enjoy receiving Christmas letters
As many know we always send a Christmas letter of our own
For my wife and I, sending Christmas cards and letters
Is a project we share
For us Merry Christmas is not just a catchy phrase
It's a time to tell those close to us how much we care
The meaning of Christmas is not Christmas cards,
It's the words thereon in so many, many ways.
2014
*****
Special Christmas Bells
By
Dennis C. Orvis
Christmastime is arriving with the familiar sound of those special bells
The Salvation Army volunteers are ringing the story red kettles tell
Of clothes, toys and food, so many to feed
Seeking change or dollars to help those in need
Every penny is important because the need is so great
Every donor is an angel, giving cause to celebrate
2014
*****
The Missing Elf
By
Dennis C. Orvis
Every year, Santa takes one of the elves on his great Christmas ride
This year Herkie's name was drawn and his excitement he cannot hide
On Christmas Eve the reindeer, sleigh and Herkie were all ready to go
Santa yelled, "Open the doors!" and they took off into the falling snow
Herkie's seat belt was fastened and he was holding on real tight
In the back of the sleigh loaded with toys, Herkie is enjoying the night
When deliveries began it was nothing but hurry without rest
Racing around the world they were speeding with time zones to test
Somewhere in New England Santa discovered Herkie was not in the sleigh
He had to finish all the deliveries, hoping Herkie would find his way
Following completion he returned to the North Pole and waited for news
Then it came, an elf has been sighted by Canadian TV crews
"Let's go! Shouted Santa, the reindeer team was rested and ready to go
Santa jumped into the sleigh with the Chief Elf and his range finder on glow
The guided the reindeer to where the missing elf sighting was known
The had to find Herkie before daylight and then race for home
The range finder beeped and turned red, they saw Herkie crossing Vixen's side
Santa guided Dasher down low, Herkie came running, and they pulled him inside
Santa yelled, "Go Dasher, go Dancer, Prancer and Vixen!
Let's go home, Comet, Cupid, Donder and Blitzen!"
The reindeer arrived home for the second time, but everything's alright
Santa leaned back with a big smile for his elves,
"Merry Christmas to all and to all a good night!"
2014
*****
Christmastime in the winter woods
By
Dennis C. Orvis
Deep in the woods where the oaks and aspens and maple trees
Sway with scattered evergreens, on the ground, a thick blanket of snow
As winter paints its familiar scene of barren trees and evergreens
The snow sparkles in the moonlight's glow
In the largest clearing where the trunk of the
Old dead pine still stands, a pair of woodpeckers are tapping loud
Sending a message for all to hear, an important invitation
not to be missed, reaching the woodsy crowd
Two long-eared rabbits, the first to arrive
Hopped on an old fallen log without making the slightest sound
A red cardinal, with his mate landed in a bordering bush
Followed by a pair of blue jays, yakking with a frown
A pair of squirrels, with bushy tails, running and jumping from
Tree to tree, race to show their special skills on high
Tom turkey slowly peeks from behind a wide trunk, still with fear in
His eyes, but happy that Thanksgiving has passed by
Several dozen chickadees swooped in the clearing with
Synchronized flying into the berry loaded bushes
Hiding quickly from the large owl and its wide impressive wingspan,
Huge eyes and terrifying overhead swooshes
In pairs and singles, those who call the woods home; deer, grouse, mink,
Black bears and more, plus the skunk family sitting downwind
It's that one time in the large clearing, the one night of peace,
When it's Christmastime in the winter woods, once again.
2014
*****
A Christmas Tradition
By
Dennis C. Orvis
It's Christmas time and our family is together making memories
Hugs, smiles and laughter prevail as long miles and long rides disappear
Followed by too much, well prepared food and the presents exchanged
And later, as we gather around the decorated tree the room fills with Christmas cheer
In the back of the room a card table sits quietly
with a new puzzle in a box, waiting its turn
The picture on the box top shows poinsettia leaves of nine different colors
A thousand pieces of mystery and perhaps agony, only patience can burn
When it was time, Papa opened the box and proceeded to turn each piece face up
Then sorting the straight edge pieces to begin to assemble the frame
When the frame is done, the fun begins, the remaining pieces
Are sorted by predominant color, the secret to this game
Nine different colors of red, sometimes easy, sometimes hard
Now waiting in nine piles of pieces for the picture to come into view
Papa silently begins assembling the pieces, finding the clues the colors expose
Others stop by, trying four sides of small pieces, sometimes finding a match or two
Papa continues as the clock ticks on, TV programs come and go,
By the time of the next meal, the puzzle is maybe half done
Everyone said, "Wow! How pretty it is!" papa answered with a smile.
The dinner was delicious. A Christmas movie was next, tomorrow was more puzzle fun.
Tomorrow arrived. Breakfast was first, and then papa went back to work. The puzzle half done
Was waiting, the hardest pieces remained to be placed
The hours went by, the progress was slow, and lunch was drawing near. Papa was grinning
The puzzle is almost done, Papa is winning the race.
"Lunch is ready," a sweet voice called, as she noticed Papa on his hands and knees.
Crawling under the card table, "One piece is missing," he said, "It must be on the floor."
Then granddaughter Emma came by the table, "Is this the one, Papa?" She pulled a puzzle piece from her pocket, laughing as she went through the kitchen door.
Well, the puzzle is complete, the picture is superb, nine different colored poinsettias, Papa is thrilled.
Emma did it again; he knew she would, two Christmas traditions in one,
Papa's puzzle and Emma, tradition wonderfully fulfilled.
2014
*****
What? No Christmas tree?
By
Dennis C. Orvis
I don't remember a Christmas morning without a pretty tree.
I'm surprised to discover how different everything seems to be
There's a feeling that's missing I can hardly explain
Compared to all others, little is the same
We turned on the TV and a choir began to sing
A choir of chipmunks singing "hear the sleigh bells ring!"
I think that is what it was; the words were strange coming out
Alvin was the loudest, a melody with a shout.
There is no fireplace; I looked for my stocking hanging on the door
But I was very wrong; it was lying on the floor
It doesn't feel like Christmas, traditions are important to me
You can be sure next year, we'll have a beautiful Christmas tree.
2014
*****
Oh my gosh!
By
Dennis C. Orvis
Oh my gosh! Hear the ruckus! I can hear someone shout!
Someone is in serious trouble, I wonder what it's about.
Oh my gosh! Santa's in the chimney and he can't get out
Can you hear me up there Santa?
Should I try to grab your boot?
Should I try to pull you up?
Will your sack be in the way?
Will olive oil help you slide?
Tell me, Santa, how I can help?
I really don't know what to do!
I know you can't afford a long delay!
I feel so helpless
I think I'm going to scream
Oh my gosh! I just woke up
What a scary dream!
2014
*****
The Wooden Reindeer
By
Dennis C. Orvis
Our grandfather likes to make things out of wood
Birthdays and Christmas we could expect something good
An item that would bring to us much pleasure
I remember the wooden reindeer as one we always treasure
Made like a four piece puzzle, assembled two foot tall
Small antlers, big eyes and nose, as cute as cute can be
And now during every Christmas season
You'll find him guarding our Christmas tree
We didn't give him a name, though Rudolph it might have been
He looks so proud and wonderful, so normal standing by our tree
A picture that could brighten a Christmas card
And a reminder of grandpa's love for me.
2015
*****
Woody and the Secret
By
Dennis C. Orvis
The wooden reindeer was standing by our Christmas tree
When a firefly named Corvis was looking in the frosted window
"I wonder," Corvis said to himself, "if that wooden reindeer would like to be alive."
He flew to the door of the house and waited for someone to show
He had a plan to enter the house whenever someone opens the door
It wasn't long before the short winter day was ending, when one of the boys started in
Corvis flew in when the door opened and flew directly to the family's den
Where the wooden reindeer was standing; Corvis smiled a grin
"Wipe your feet!" his mother said as he entered the kitchen door
Corvis figured the call wasn't meant for him
So he flew to the reindeer and landed on his head
And the wooden reindeer felt strange feelings begin
Suddenly he could feel the firefly and his wings fanning the air
His eyes opened very wide, it was something that had never happened before
"My name is Corvis. How long have you been standing here?"
"I don't have a name. I'm usually here twelve days and maybe a couple more."
"You should have a name. I'll call you Woody, Woody from Baltimore."
"Woody! I like it, Corvis. It sounds very nice to me."
"Ok, Woody you are. Have you ever thought of being alive?"
"No, but it does sound very exciting. Is it a possibility?"
"Oh yes, Woody, I'm wearing my magic hat! Would you like to give it a try?"
"I think so, but it really worries me. I don't know what to do."
"I'll tell you what, Woody; I'm going to give you a riddle.
If you find the answer in seven days you'll know what's right for you!"
The seventh day will be Christmas morning; if you fail you will become wooden again.
During the next six days, you will be able to run and jump from the start
You will meet others who might help you find the answer to this riddle
You must look hard, Woody to find it. What is The Secret of the Heart?
Woody had many experiences during the next six days including dogs and wolves,
Snow and a blinding blizzard, the frozen river, snowmobiles and snowplows and cold
He met new friends, deers, rabbits and other animals, but none knew the answer
On the seventh morning Corvis found him under a bridge, Woody spoke quite bold
"I looked everywhere, Corvis, for the answer, but it was not known
But I have decided I would rather be a wooden reindeer. So I am going home.
The family there is my family and they have loved me from the start
And I believe I have learned the secret, Corvis, Love is the secret of the heart.
Corvis watched Woody as started jumping in the deep snow, back to the road,
Then he saw some houses and ran to them. Suddenly a big dog was chasing him
He ran hard. He saw a garage door closing; he slipped on the snow and slid under the door
He ran into a smaller door, it opened and a voice said, "WOODY! Where have you been?"
The lady of the house reached down and picked up the wooden reindeer.
She carried him to the den and placed him by the Christmas tree
"Look everyone, I found Woody standing outside the door to the garage.
I don't know how he got there, but he is back where he needs to be."
Corvis, outside looking in the den window, was smiling.
"Woody I knew you always had the answer and I was with you all the way."
Woody saw the firefly's light blink a time or two and then it was gone.
He smiled. Being with those you love is a wonderful Christmas Day.
2015
*****
Christmas Long ago
By
Dennis C. Orvis
When I think of Christmas so many years long ago
Some families like ours, were not doing so well
It was best to keep our wishes small,
I hoped a lot, but really expected something I could wear
My hometown was small, main street was decorated,
the stores and the light poles, too
Of course, most houses were decorated, often a Christmas tree
Could be seen in the big windows and snow was everywhere
Young girls were wishing for Shirley Temple dolls
And maybe a doll buggy to push them in
They hoped too, a tea set Christmas morning
would also be under the Christmas tree
Young boys all anxiously dreaming of twin holsters,
With a shining pair of Roy Roger's pistols
Or Gene Autry guns and cowboy hat to match,
Either would have been great for me.
Some families, I don't know how many
Were doing quite well moneywise
Their kids were expecting bicycles for Christmas
Pretty clothes and popular games
Christmas Day everyone would know
What kind of Christmas your family had
And I did. It was still snowing. I saw a couple kids
With new sleds, but I didn't know their names.
"Your sled looks great," I said, at the top of the hill
"Thanks," he answered, as I pulled my new knitted cap and mittens on tight
Then we started running on the snow to the crest of the hill
And I slammed my old sled on the snow for the ride
As I flew down the hill my sled runners sang on the icy snow
I squinted my eyes as the cold winter wind pushed against my face
I smiled as I passed several new sleds, leaving them behind
When I finally stopped sliding, I headed home with my old sled by my side
2015
*****
To Family and Friends
By
Dennis C. Orvis
Can it really be possible? Is Christmas of 2015 only weeks away?
Oh, my! I've got to get started, no time for delay
I'm ready as I will ever be, here's the first one today
And a new poem follows each day until Christmas, we hope it's ok.
'Cause we're thinking of you in a special "Merry Christmas" kind of way
With jingle bells, pretty lights, decorated trees and starry nights and those wonderful memories to make your day
2015
*****
Early Christmas Morning
By
Dennis C. Orvis
Oh, the picture I see this Christmas morning
Of our family's beautiful Christmas tree
With its lights reflecting on pretty ornaments
Including those so special to my wife and me.
Like the ornaments our kids made through the years
And the story behind each and every one
Plus the random small candy canes adding
Their particular eye-catching thoughts of fun
From the little Angel sitting at the tree's highest point
So glorious with her watchful eyes
To the many gifts around the blanketed base
In wonderful wrappings, all colors and nearly every size
Soon, this picture will change quickly
With many smiles and laughter and memories we'll later recall
Before that happens, though, I make this wish for the world
"Peace on Earth and Good Will to all!"
2015
*****